Original Article Published by Gunnison Country Times
July 22, 2021
Women of Cattlemen's Days share joy and awe for community
Anna Coburn
Times Staff Writer
Two jubilant women cheered into this reporter's recorder last week.
"We've been here 44 years!" one said.
"We come every Thursday. Every Cattlemen's," said the other.
The night of Thursday, July 15 kicked off the Professional Rodeo Cowboy Association rodeo for the 121st Cattlemen's Days — and was also the 16thannual Tough Enough to Wear Pink (TETWP) event.
Janet Nelson-Cox, library technician at the Gunnison Library, volunteered last year helping take temperatures of everyone who walked in the gate. Thursday night, Nelson-Cox volunteered at the TETWP tent.
"I figured I owe them," Nelson-Cox said.
Nelson-Cox went years without a mammogram until she got a full-time job and health insurance. After her mammogram, doctors wanted extra tests. Nelson-Cox teared up as she said, Tough Enough to Wear Pink pitched in."
Before becoming an official volunteer, Nelson-Cox participated in Cattlemen's Days' 4-H events, and she has worked at the library for six years. "People are amazing in this community," Nelson-Cox said. She is also grateful to summer residents who support the library and participate in Cattlemen's Days.
Patriot Night on Friday began with rain. It didn't deter many from the stands, and it didn't dampen contestants' spirits.
Sophie Hoffman of Gunnison placed 3rd in the Watershed Barrel Racing competition earlier that week, which gave her a chance to run in her first professional barrel racing competition Friday.
"I travel all over, and I love every rodeo I go to," Hoffman said. "But there's definitely something special about your hometown rodeo." It was a big deal for Hoff man to perform in front of family and friends.
Kelly Ozyp grew up in Gunnison and said Cattlemen's Days has always been her favorite time of the year. "It's something fun to do, and I see everyone I know," Ozyp said. Ozyp's ten-year-old daughter,  Maddie, likes the rodeo better than the carnival next door. "She wants to be a barrel racer," Ozyp said.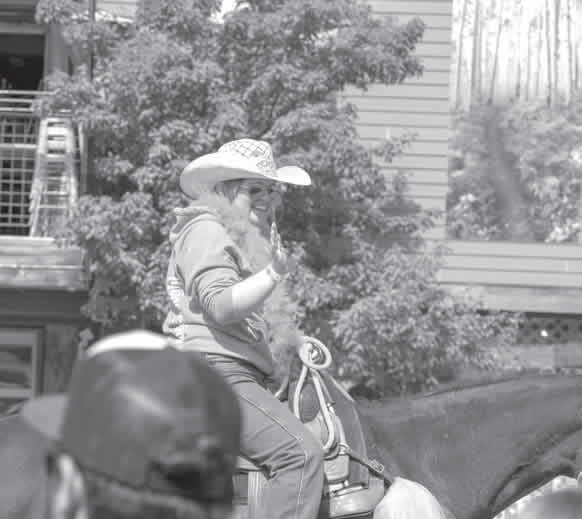 Saturday night, Cattlemen's Days royalty — Jr. Miss Genevieve Williams, Princess Aspen McNulty and Queen Clara Cranor — greeted early patrons at the entrance. When asked what they like about Cattlemen's Days, McNulty said it's the energy in the air. "It's just a really positive place," said McNulty. Cranor said she has only missed two Cattlemen's Days in her life. Those two years, she was attending college at Norwich University in Vermont.
"You'll see neighbors here," Cranor said, "it's a lot of fun to watch."
Whether one is a spectator, a volunteer, or contestant, there is an underlying theme. Cattlemen's Days is all about community, and the smalltown feeling of Gunnison makes the professional rodeo night
unique.
"It's a good place to land in," Nelson-Cox said, "where else can you live and hike and walk and raft?"
And, see a hometown rodeo.
(Anna Coburn can be contacted at 970.641.1414 or anna@gunnisontimes.com)