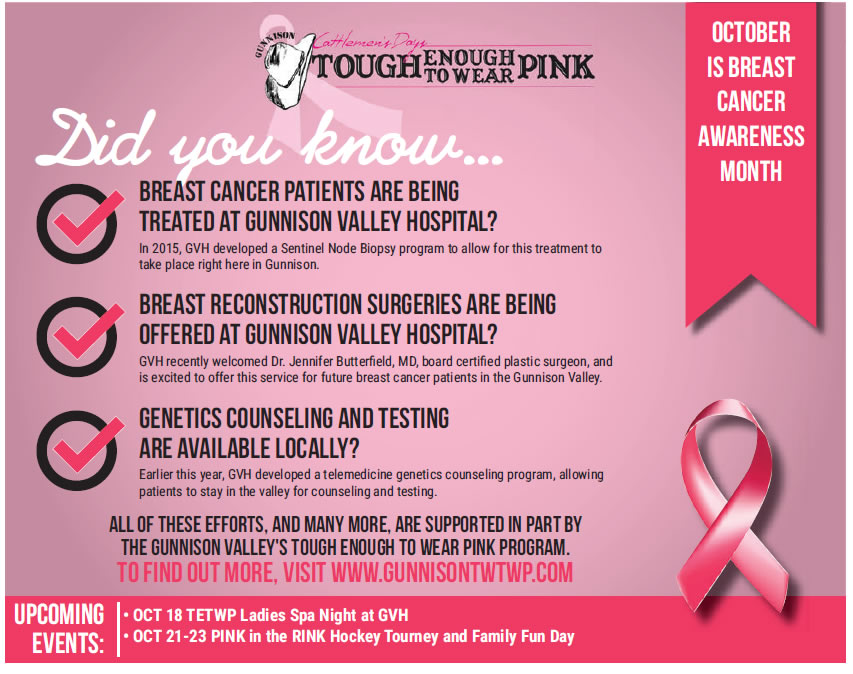 Courtesy Gunnison Country Times, October 6, 2016
October is Breast Cancer Awareness Month, and local nonprofit Tough Enough to Wear Pink works to provide funding for breast cancer prevention, education, support, breast screenings and equipment.
The following are new services being pursued by Tough Enough to Wear Pink.
Assist in the purchase of a $500,000 3D tomosynthesis in 2017.
New program which enlists a surgeon from Glenwood Springs to travel to Gunnison once per month to perform reconstructive surgery. One surgery has already been performed and another is scheduled for next week.
Establish a nurse navigator for those battling cancer. The nurse navigator would assist patient in all aspects of care, including coordinating treatment, paperwork and other needs.
Friends of Pink — which helps financially support breast cancer patients — has assisted six patients in the last six months. The group has four more applications for assistance.