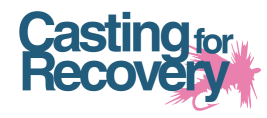 Note: Cattlemen's Days Tough Enough to Wear Pink is paying for two women to attend this wonderful retreat. Please spread the word to any breast cancer survivor on the Western Slope. Click here to go to the CfR online application. CfR will choose two women randomly.
The retreat for women with breast cancer offers a program in
Colorado's Western Slope, October 14-16, 2016 
Manchester, VT—February 8, 2016—Casting for Recovery, a non-profit organization offering support and educational retreats for women with breast cancer will hold a weekend retreat at the Redstone Inn, Redstone, Colorado, October 14-16, 2016. The retreat is open to women of all ages and in all stage of breast cancer treatment and recovery, and is offered at no cost to participants.
The mission of Casting for Recovery is to enhance the quality of life of women with breast cancer through a unique program that combines breast cancer education and peer support with the therapeutic sport of fly fishing.
"We are so excited to announce a Colorado Western Slope Retreat to service the women in this area. This will ease the distance between a participant and a retreat, and allow more women to experience healing and perhaps go home with a new fun and exciting hobby to enjoy."
Since 1996 CfR has served more than 6,500 breast cancer survivors nationwide with the help of more than 1,600 volunteers, including medical and psychosocial professionals, fly fisher instructors and program alumna.
The number of participants is limited.
The deadline for submitting an application for random selection to attend the retreat is August 5, 2016.
Click here for the CfR online application.
Casting for Recovery retreats are supported by fundraising from many local individuals and organizations and are in need of continued support. For more information on Casting for Recovery or to make an online donation please visit www.castingforrecovery.org.
Casting for Recovery® (CfR) is a 501(c)(3) nonprofit founded in 1996 by two women — a breast reconstructive surgeon and a professional fly fisher. CfR retreats offer opportunities for women to find inspiration, discover renewed energy for life and experience healing connections with other women and nature. CfR's retreats are open to breast cancer survivors of all ages, in all stages of treatment and recovery, and are free to participants.