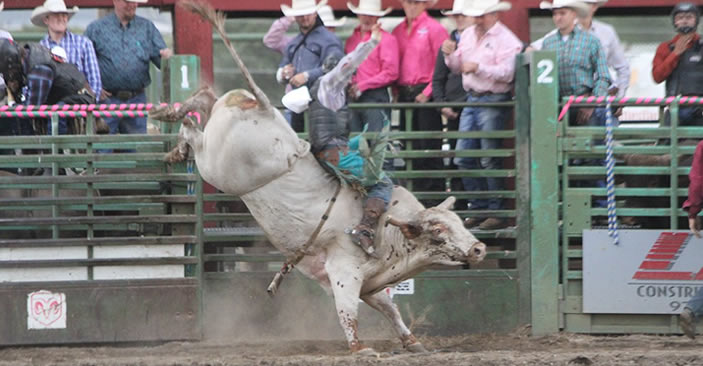 By: Mackenzie Bode
At the 2020 PRCA Awards Banquet in Arlington, Texas, on December 2nd, the PRCA community honored the best in professional rodeo. Among many awards recognizing immeasurable efforts, talent, and dedication to the world of rodeo, is the Hesston Sowing Good Deeds award sponsored by Hesston by Massey Ferguson. For the last 4 years, this award has been presented to a PRCA-sanctioned rodeo that contributes significant support for local, regional, and national charities and organizations. In other words, a rodeo that provides exceptional dedication to their community.
As 2020, a challenging and heart-wrenching year, comes to a close, let's bring the passionate and charitable efforts of the Hesston Sowing Good Deeds top five rodeos to the forefront.
Starting with the Hesston Sowing Good Deeds Award winner of 2020, the Caldwell Night Rodeo out of Idaho, places community partnership, rodeo, and promoting the western way of life at the forefront of every decision they make. While their 2020 rodeo did not go on, their steady presence in the community provided aid and comfort during a particularly harsh year for everyone. During an annual holiday event that has become a tradition, the Caldwell Night Rodeo raises funds for three organizations of their choosing. Their 2019 recipients were the Caldwell Fire's Burn Out Fund, the local YMCA's Back to School Program, and the Caldwell Police Department's Shop With a Cop event. The Burn Out Fund supports community members who have lost their homes to a fire. Through the YMCA's Back to School Program, the rodeo was able to help hand out 700 backpacks and direct traffic. For the Caldwell Police Department's Shop with a Cop event, underprivileged youth in the community are given the opportunity to shop with a local police officer to buy gifts for their families. The Caldwell Night Rodeo supports this event because it allows youth in the community to build a more well rounded perception of officers and know that they are there to provide safety and help. During this year, the public eye focused on the poor actions of a few first responders and the Caldwell Night Rodeo took to their social media platforms to stand in support for their local forces and communicate their pride and gratitude that they have for the men and women in blue.
In addition to their holiday event, in 2019 they provided $12,000 through their Patriot Fund to help veterans in their community. They were also able to gift just under $50,000 through their Power of Pink Fund to aid women and men to get breast health screenings with no financial ramifications at their local hospitals. And in support of the Man Up Crusade, the Caldwell Night Rodeo donated 100% of their left-over clothing merchandise to a women's, men's and children's shelter.
In the vast and mighty valley of Gunnison, CO, despite a global pandemic, Gunnison Cattlemen's Days Rodeo persevered and provided in their 120th year. Known as the PRCA's #1 Tough Enough to Wear Pink (TETWP) rodeo in the nation for the last 5 years, there is no surprise that even in 2020, Cattlemen's Days raised the bar in more ways than one.
In 2020 alone, Cattlemen's Days TETWP fundraised $557,000 to go back into their extensive programs that provide a variety of support to not just breast cancer, but all cancer patients and families in the valley. Their largest fundraising event, that went through several modifications to survive pandemic restrictions, was their annual songwriter shuffle. Through this event, TETWP raised over $270,000 and the donation of a third vehicle to their Transportation program that had already transported patients over 23,000 miles to appointments outside of the valley this year. In addition, Gunnison's TETWP has been busy with their local hospital, Gunnison Valley Health, building comprehensive breast care services for the valley. In the last 5 years, TETWP has funded the purchases of top-notch technology and patient care including a digital ultrasound machine, a 3D mammography machine, biopsy diagnostic equipment and this year, completing their wish list, purchased the breast MRI coil. After 2020, Gunnison's TETWP has raised and reinvested $3,742,000 into their valley and are well on their way to having the best small-town breast cancer hospital in the country and impacting the bigger picture of health in a rural community.
In addition to their leading TETWP efforts, Cattlemen's Days awards scholarships to local 4-H and FFA students and has several initiatives supporting other local organizations. Traditionally, two nights of rodeo are dedicated to raising funds and support for the Gunnison Ranchland Conservation Legacy and local assistance programs for first responders.
Cattlemen's Days was a rodeo in 2020 that was able to defy the odds with tremendous effort from the rodeo committee and the local community. In 30 days, the community raised $163,000, enough to fund a fan-less rodeo. Gunnison welcomed over 100 NFR Qualifiers, 25 of which were PRCA World Champions, competing for the rodeos record high purse of over $90,000. At the end of the day, Gunnison Cattlemen's Days rodeo had 3 record breaking nights at a 13% capacity. Community truly is a driving force behind this rodeo.
"We rodeo for the kids", a coined catchphrase by the 2011 Reno Rodeo President, Mike Lucke, who passed away this year. His words ring true through every effort Reno Rodeo puts towards their community each year. With over 900 volunteers, the Reno Rodeo of Nevada has a long tradition of supporting youth with special needs and children living in poverty in the Northern Nevada communities. Through the Reno Rodeo Reading Roundup, volunteers annually visit 25 elementary schools each spring and since the event's inception 20 years ago, have provided over 100,000 books to kids in northern Nevada. The Reno Rodeo is known for their Special Kids Rodeo that started in 1983. Today, they engage 120 special youth in their community in addition to more than 2,000 participants on Kids Day, an event that brings the western lifestyle to life for young people in their community.
Behind the scenes of their efforts in youth programs, the Reno Rodeo is the primary donor to the Reno Rodeo Foundation, donating nearly a quarter of a million dollars annually. Over the years, the Reno Rodeo Foundation has given $7 million to the youth of their community through scholarships, grants, and the Reno Rodeo Wish Program and has reached more than 80,000 children with extraordinary needs in 14 northern Nevada counties.
Vernal, Utah's Dinosaur Roundup Rodeo, has an entrepreneurial spirit and commitment to strengthening their western sports community and their city. In 2020, they were able to continue their junior rodeo and host their annual special needs rodeo for residents with special needs of all ages. The Dinosaur Roundup Rodeo also participated in several diverse efforts in their community, including Trees for Charity, raising money for individuals that have cancer or other serious health problems, the Freedom Foundation, an organization that seeks to rescue individuals from human trafficking, and a local event to raise funds for hometown NFR Qualifier, Josh Frost. This rodeo was one of the first Tour rodeos to be held with full capacity during the COVID-19 pandemic and was able to provide an additional rodeo performance for the athletes to compete.
In California, the Redding Rodeo calls it the "cowboy way", to give back to their community through volunteering, granting scholarships, and donating to several nonprofits. Through the Redding Women Rodeo Association, the Redding Rodeo Association Auxiliary, and the Asphalt Cowboys, this rodeo and community have a devoted following of volunteers. The Redding Women Rodeo Association can be spotted in their blue, hosting socials, trail rides, tack swaps, community events and running concessions during every rodeo.  Look for the ladies in red to find the Redding Rodeo Association Auxiliary, a group formed in the 1950's that is there to assist the community in any way, shape, or form from grocery shopping to aid after a natural disaster. This group helps raise thousands of dollars each year for local cancer patients through Chicks n Chaps, a women's rodeo clinic with a cause that travels to over ten states every year. The Asphalt Cowboys are a non-profit organization that works under the Shasta County Sheriff's Department and take pride in their two large fundraisers, the Big Breakfast, serving over 10,000 community members and the Big Community Barbeque. Funds they raise go directly into the Redding Rodeo, giving the community access to rodeo week events free of charge. The Asphalt Cowboys also make donations of equipment and support for the K-9 unit at the Sheriff's Department and created a Law Enforcement Scholarship for men and women interested in entering the field. The Redding Rodeo holds several events to promote rodeo and the western lifestyle to the next generation. Their volunteers' favorite event is the Special Kids Day, providing kids with special needs the opportunity to meet and ride horses. The Redding Rodeo also hosts a junior rodeo each year that has grown into an impactful rodeo community for the youth of their area.
Here is to another year of the "cowboy way", rain or shine, pandemic or not, it will be exciting to see what rodeos accomplish in 2021! Congratulations to the top 5 Hesston Sowing Good Deeds rodeos!