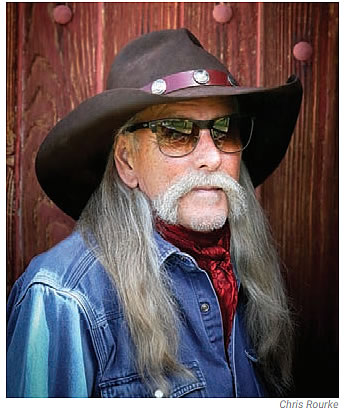 Original Story, Gunnison Country Times Aug. 13, 2020
Nashville legend, local philanthropist to receive highest industry honor
Chris Rourke
Times Editor
He's known around the globe as one of country music's greatest poets, and locally as a caring community member and philanthropist.
Now, Nashville singer-songwriter Dean Dillon has been given the highest honor in the industry — election into the Country Music Hall of Fame.
The announcement came Wednesday morning from the Country Music Association (CMA), the industry's trade organization.
According to CMA, the honor is given to recognize significant contributions to the advancement of country music by individuals in both the creative and business sectors. The first members — Jimmy Rodgers, Fred Rose, and Hank Williams — were inducted in 1961.
Dillon will be part of the class of 2020, which includes Marty Stewart and Hank Williams Jr.
New members are elected annually by a panel of industry executives and are inducted formally during the Medallion Ceremony, part of the annual reunion of members hosted by the Country Music Hall of Fame and Museum.
Members are memorialized by having their image cast in bronze and mounted in the hall.
"It's humbling, extremely humbling," Dillon told the Times Wednesday. "When you see all those names in the hall — Hank Williams, Roy Clark, Hank Cochran — it's hard to believe."
A Nashville hit
At the age of 18, Dillon hitchhiked from his home in Lake City, Tenn. to Nashville with dreams of becoming a songwriter. In 1979, Dillon's career got a break when he met producer Blake Mevis, who asked him if he wanted to pitch songs to an up-and-coming Texas singer.
The singer turned out to be the now-legendary George Strait.
A partnership formed between the singer and the songwriter — Dillon wrote more than 60 songs which were recorded by Strait. Those songs included "The Chair," "Oceanfront Property," "She Let Herself Go" and "Easy Come, Easy Go," among others.
But it was Hall of Famer Cochran who had an even greater influence on Dillon's development. Cochran, who Dillon described as "one of the greatest songwriters of all time" and a father to him, took the budding songwriter under his wing in 1980.
"He taught me everything he knew, and he knew more than most when it came to songwriting," Dillon said. "Just to be tutored by somebody of that caliber is a once in a lifetime deal."
The duo even spent four years on a boat in the Bahama's crafting lyrics.
"That's all we did — we wrote," Dillon said. "Sure, we drank and had good times, but we were always focused. It didn't matter what time of day or night — at 4 o'clock in the morning we wrote 'The Chair.'"
While perhaps best known for songs he produced for Strait, Dillon has also written hits for Toby Keith, Kenny Chesney, LeeAnn Womack, and Vince Gill, to name a few.
"I've flown by the seat of my pants my whole career," Dillon said, giving credit to great publishers.
The road to 'Pink'
A heavy-hitter in Music City, Dillon started making frequent trips to Colorado — in part to help the T.J. Martell Foundation's benefit, "Country in the Rockies." The foundation funds leukemia, cancer and AIDS research.
After meeting his wife, Susie, in 2005, Dillon decided to make the valley his second home. Susie, to him, "makes every day a good day."
It was about that time when his friend, Jimmy Clark, first approached Dillon about helping the local Tough Enough To Wear Pink (TETWP) campaign with fundraising. Dillon shied away, concerned about taking on another project, and simply wanting to hide in the mountains away from Nashville.
But in 2006, Clark was killed by a bull while volunteering at a rodeo. Dillon took stock of how much Clark had meant to him and wanted to get involved in TETWP — his way of honoring his friend. Dillon was promised by the organization that the money would stay to assist people locally.
Annually, Dillon has brought the biggest names and the brightest stars to the Gunnison Valley for benefit concerts. Just this past weekend, concerts were held in three north valley homes — artists rotated through the homes while participants stayed put, complying with current health restrictions.
The two-night event raised approximately $260,000. In total, TETWP has raised almost $4 million and has funded top of the line cancer detection equipment and provided support for local cancer patients both emotionally and financially.
"I owe it to the community. It was time to do something to give back," said Dillon. "If you want to ask me what the most rewarding thing I've ever done, other than music, it is by far and away, Tough Enough to Wear Pink."
Dillon's Mountain High Music Festival in January also benefits the Adaptive Sports Center. He's also assisted with raising money for countless other local charities.
But Dillon's benevolence doesn't stop there. He has boosted local businesses, such as Dobrato Resophonic Guitars owned by local Kent Viles, by bringing musicians in to shop. He's helped launch concert events at the I Bar Ranch. And Dillion hosts young singers and songwriters on his ranch north of Gunnison, giving them a hand in songwriting and teaching them the ropes from his vast experience.
And for the last 16 years, Susie has been at his side to help.
"I'm very proud of him because he came here to hide and he did the opposite," Susie said. "This is the top of the heap — among his peers — I'm proud and pleased and he wears it well."
The Country Music Hall of Fame induction of the Class of 2020 is scheduled for the third week of October.
(Chris Rourke can be contacted at 970.641.1414 or at editor@ gunnisontimes.com.)