June 11, 2019 | Author Krysta Paffrath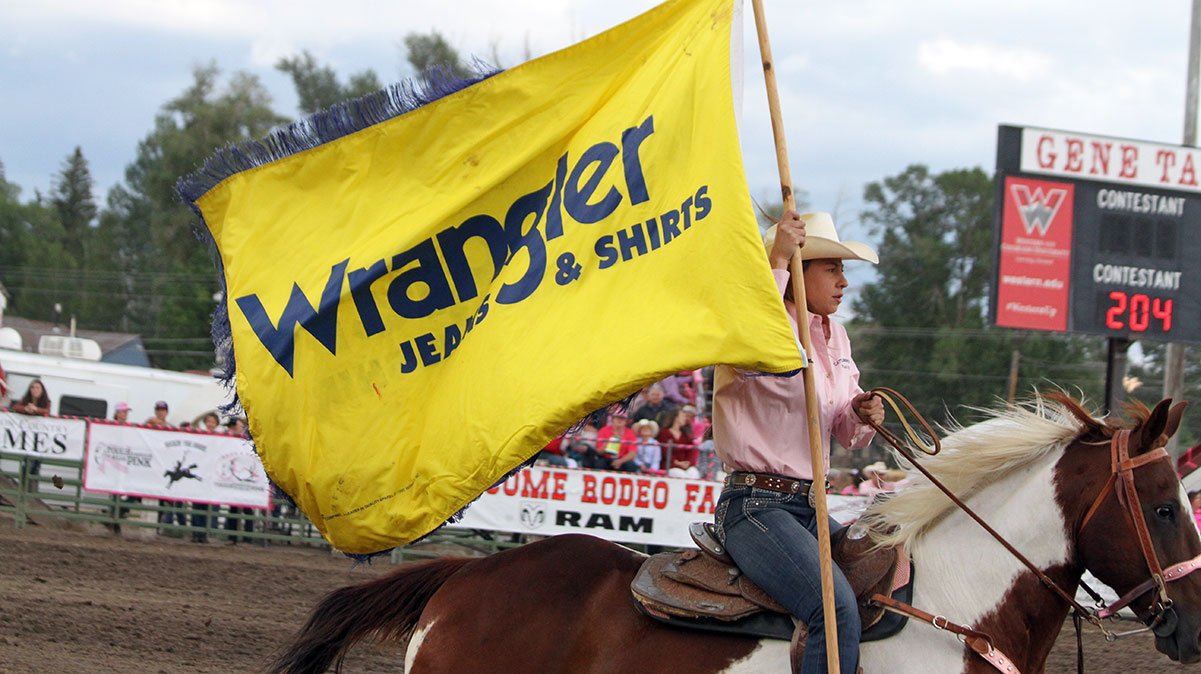 GUNNISON, COLO. – July 11th, 2019 is the date you are going to want to put in your calendar for the Annual Tough Enough to Wear Pink Challenge, hosted by Gunnison Cattlemen Days. Wrangler®, the iconic American denim brand and leading sponsor of the Professional Rodeo Cowboys Association (PRCA), is excited to partner, yet again, with Gunnison Cattlemen's Days to make this the best challenge yet.
Tough Enough to Wear Pink™ (TETWP) has reached a new milestone as of the NFR last year: $28 million in total funds has been raised for breast cancer awareness and treatment since 2004, the year the organization was created.  TETWP is a 501(c)(3) nonprofit organization dedicated to providing local funding for breast cancer awareness, prevention, education, support, breast screenings, and equipment.
Championed by country music artist Dean Dillon, and based in the center of the cool Colorado mountains, Gunnison Cattlemen's Days TETWP is the #1 rodeo fundraiser of the PRCA. Last year, the Singer-Songwriter Concert & Auction raised $350,000.00, alone.  Heidi Sherratt Bogart, Executive Director of TETWP, was able to express her sentiment about the Gunnison program and what it has done since conception,
Everyone at Cattlemen's Days Tough Enough to Wear Pink wants to extend our deepest gratitude for your support of our campaign.  Without the generosity and support of you, we could not have had such a great 2018 campaign, which pushed us over the $2.7 million dollar mark for the history of our organization.
The gratitude stretches much further than just the Tough Enough to Wear Pink organization. Jeff Chadwick, director of special events for Wrangler has his own thoughts on what Gunnison has been doing for the rodeo community,
"Wrangler is proud to continue our support of amazing grassroots efforts, including the Gunnison Cattlemen's Days Tough Enough to Wear Pink campaign, which has grown into one of the most inspiring events in the rodeo community," – "As the leading ProRodeo sponsor of the PRCA, we take the phrase 'Gunnison Tough' to heart whether we're here in Colorado or supporting hundreds of rodeos, equine events, and other western lifestyle charity events across the country."
Gunnison Cattlemen Days have a lot to be proud of. This year, they have added $15,000 to the added money for contestants on TETWP night, which falls on July 11th, 2019. The $15,000 will be split between seven events (8 including team roping header and heeler) and if the winner of the event is wearing pink that night, they will win an additional $1875. Talk about taking it to the next level!
The festivities kick off in Gunnison on July 5th with the 4H Show and goes until July 14th with no break in between. If you are planning on being in town or even passing through, make sure to check out their event flyer for the full schedule: Gunnison Cattlemen Days 2019. Obviously, the highlight of the event is the TETWP night on July 11th. One can only describe it as being surrounded by a sea of pink in the crowd. The amount of support that this rodeo has from, not only the local community but the western community is insane. If this event isn't on your rodeo bucket list, it should be!
Cattlemen's Days TETWP helps provide everything from free mammograms, transportation and food cards to financial support for leading-edge technology that allows leading experts such as Stephania K. Timothy, MD to perform complex surgeries. All of the money raised in Gunnison stays local, and a portion of proceeds from everything sold within the Wrangler Tough Enough to Wear Pink merchandise collection goes back to the campaign fund. From all of us here at Cowboy Lifestyle Network, we hope to see you in pink in Gunnison, Colorado for the "Granddaddy of all Colorado Rodeos".
Read the original article here
Published CowboyLifestyleNetwork.com
June 11, 2019