Story Courtesy Gunnison Country Times 2016 Cattlemen's Days Special Publication
By Chris Rourke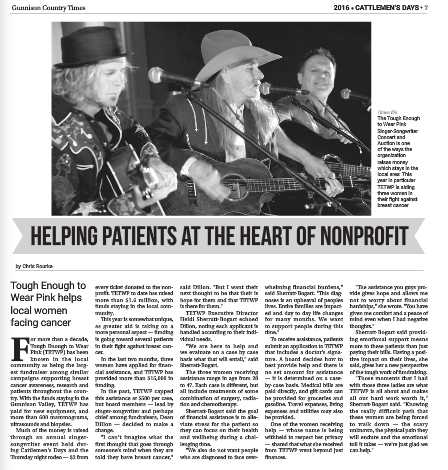 Tough Enough to Wear Pink helps local women facing cancer
For more than a decade, Tough Enough to Wear Pink (TETWP) has been known in the local community as being the largest fundraiser among similar campaigns supporting breast cancer awareness, research and patients throughout the country. With the funds staying in the Gunnison Valley, TETWP has paid for new equipment, and more than 600 mammograms, ultrasounds and biopsies.
Much of the money is raised through an annual singersongwriter event held during Cattlemen's Days and the Thursday night rodeo — $2 from every ticket donated to the nonprofit. TETWP to date has raised more than $1.6 million, with funds staying in the local community.
This year is somewhat unique, as greater aid is taking on a more personal aspect — funding is going toward several patients in their fight against breast cancer.
In the last two months, three women have applied for financial assistance, and TETWP has provided more than $15,000 in funding. In the past, TETWP capped this assistance at $500 per case, but board members — lead by singer-songwriter and perhaps chief among fundraisers, Dean Dillon — decided to make a change.
"I can't imagine what the first thought that goes through someone's mind when they are told they have breast cancer," said Dillon. "But I want their next thought to be that their is hope for them and that TETWP is there for them."
TETWP Executive Director Heidi Sherratt-Bogart echoed Dillon, noting each applicant is handled according to their individual needs.
"We are here to help and we evaluate on a case by case basis what that will entail," said Sherratt-Bogart.
The three women receiving assistance range in age from 28 to 47. Each case is different, but all include treatments of some combination of surgery, radiation and chemotherapy.
Sherratt-Bogart said the goal of financial assistance is to alleviate stress for the patient so they can focus on their health and wellbeing during a challenging time.
"We also do not want people who are diagnosed to face overwhelming financial burdens," said Sherratt-Bogart. "This diagnoses is an upheaval of peoples lives. Entire families are impacted and day to day life changes for many months.  We want to support people during this time."
To receive assistance, patients submit an application to TETWP that includes a doctor's signature. A board decides how to best provide help and there is no set amount for assistance — it is determined on a caseby-case basis. Medical bills are paid directly, and gift cards can be provided for groceries and gasoline. Travel expenses, living expenses and utilities may also be provided.
One of the women receiving help — whose name is being withheld to respect her privacy — shared that what she received from TETWP went beyond just finances.
"The assistance you guys provide gives hope and allows me not to worry about financial hardships," she wrote. "You have given me comfort and a peace of mind even when I had negative thoughts."
Sherratt-Bogart said providing emotional support means more to these patients than just paying their bills. Having a positive impact on their lives, she said, gives her a new perspective of the tough work of fundraising.
"Those moments that I had with those three ladies are what TETWP is all about and makes all our hard work worth it," Sherratt-Bogart said. "Knowing the really difficult path that these women are being forced to walk down — the scary unknown, the physical pain they will endure and the emotional toll it takes — we're just glad we can help."