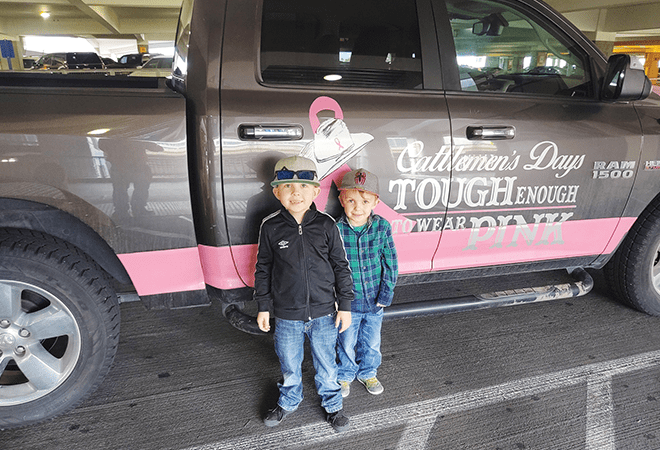 Original Story, Crested Butte News, January 15, 2020
Making a mark on not just the kids
By Mark Reaman
A 7-year-old Crested Butte kid battling a life-threatening disease had one of his dreams come true in early December as he and his family were treated as special guests at the Wrangler National Finals Rodeo in Las Vegas.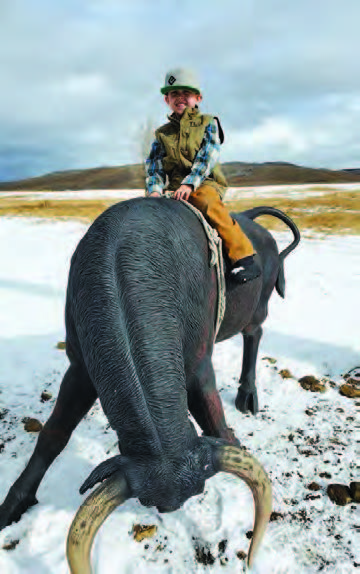 Cowboy-in-the-making Brody Pitt loves to watch the bull riding at Cattlemen's Days in July, and was excited to see the best cowboys compete in Las Vegas. He was partnered and got to hang out with professional bull rider Josh Frost of Utah. Through the generous support of Troupe Land and Cattle in Gunnison, Cattlemen's Days formed "Team Brody 2019" to get Brody and his family to the 2019 Golden Circle of Champions.
Brody was diagnosed in March of 2018 with medulloblastoma, a cancerous brain tumor, and has spent the last year and a half getting through surgeries and treatment. He was joined in Las Vegas by his parents, Casey and Tyler Pitt, and brother Jackson, along with his five-year-operating room nurse at Gunnison Valley Health. Tyler works for Copper Creek Homes in Crested Butte.
"It was really cool and I like hanging out with Josh Frost," Brody said.
His parents agreed. "Both boys were so excited for the rodeo and had wide eyes throughout all the events, especially when Josh Frost [the boys' new best friend] got his chance to ride," recalled Brody's mom Casey.
Mike Dawson, Cattlemen's Days vice president and Tough Enough to Wear Pink board member, along with TETWP executive director Heidi Sherratt, served as Brody's chaperones for the event. "Thankfully, Brody is through the worst parts, but is still being monitored. He has a 50 percent chance of beating this, and it will affect his life forever," said Dawson. "He has affected me, forever."
Gunnison Cattlemen's Days and 10 other rodeo committees across the nation each sent a kid with a life-threatening illness to the Golden Circle of Champions at the rodeo finals.
The Golden Circle of Champions was conceived to raise awareness and provide funds to help those children in need. Each year, families are honored during the opening night of the rodeo. Through donations and fundraising efforts, support is provided directly to the families to fulfill their most urgent needs: paying bills, buying medicine and caring for their family.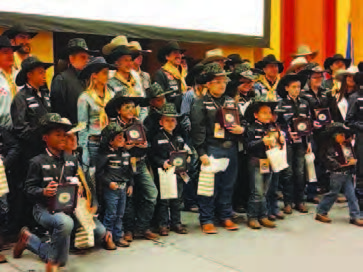 "It is a once in a lifetime trip, where the family gets lodging at the Hard Rock Casino, a special luncheon with a top cowboy to be their partner and special seating at the rodeo Sunday night," explained Sherratt. "The kids all got outfitted with cowboy gear, hat to boots, and received autographs. Their cowboy partner wore a gold wild rag in the competition, which was given to the kids after the performance. Travel costs and $1,000 were provided by Gunnison Cattlemen's Days. Troupe Land & Cattle, which owns a large ranch up Ohio Creek Valley, generously sponsored "Team Brody" for the trip, and Cattlemen's Days had custom vests for the family made for the trip."
Dawson explained that through the Tough Enough to Wear Pink campaign, "We also provided swag for the kids, gift bags and the volunteers at the events, along with our NFR Committee tickets. Each kid received Justin Boots, Wrangler jeans, a Custom Golden Circle of Champions belt and buckle and a Resistol cowboy hat signed by all the competitors at the National Finals Rodeo, along with a ton of other gifts and merchandise. The family was treated like the rock stars they are," he said.
"Brody's champion, Josh Frost, a bull rider from Utah who was number 25 in the world, was competing at his first NFR.
"Josh was salt of the earth for a 20-something kid," continued Dawson. "Josh is a true cowboy, and even though Brody was shy at first, Josh taught Brody how to rope and stood by him to get him out of his shell and have some fun. It's hard for a mountain kid in the city of lights, and Josh was a trooper in keeping Brody engaged and having fun."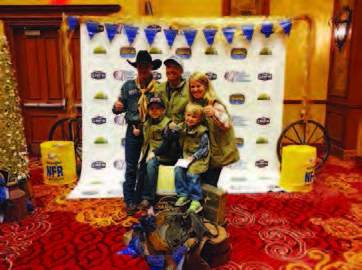 During Round 4, Josh got bucked off his bull. "When I saw Brody after the rodeo, he was still holding his 'Josh Frost is my Champion' sign, but had a frown on his face," recalled Dawson. "I asked, 'Brody, what's wrong? That was a great rodeo?' He said, 'But Josh didn't make his ride.' I smiled and told him, 'That's what you have to learn about rodeo, when you get bucked off, you get back on the next one, and the next one, until you ride and win! Plus, Josh won the Linderman Buckle tonight, which means he was the overall top cowboy at both ends of the arena. He's the best at everything!' With that, Brody's frown disappeared, he got the light back in his eyes and he asked me again, 'Can we find me a rope so I can be a real cowboy?' Of course the answer was yes, and we got him the pink rope he wanted, for Tough Enough to Wear Pink, the very next day, first thing! Brody and Josh are my new heroes!"
Casey said the entire family is in awe of the support from the community. "We are super grateful to Mike, Heidi and the Troupe Land & Cattle for sending us there to have a lifetime experience," she said. "Our family couldn't have gotten through this difficult time in our lives without the generous support of our family, friends and our employers. We met numerous families that were going through similar struggles as us, but without the same support of their community. Each day we were reminded that although we have an enormous hurdle to overcome, we would have a home and jobs to return to. Thanks to everyone—you know who you are."
Dawson concluded that this trip to the rodeo finals was special. "It was the hardest, but best, day I've had at the NFR in the six years I've been going," he said. "It was a complete flip of the script. These kids, and the rodeo athletes who give their time for the event while they're competing at the top level, with unbelievable pressure and competition, are the true champions."