Raise $30,000 for Cattlemen's Days Tough Enough to Wear Pink
Original Article Published by Crested Butte News
September 2, 2021
[ BY KATHERINE NETTLES ]

When local fourth grader Abby Sanderford and her dad, Kevin, began planning a cross-country bike trip for summer 2021, they didn't initially intend for it to be a fundraiser. As Kevin put it, "the purpose was to teach my daughter that she could do anything she wanted." Kevin had completed the trip with his then 11-year-old daughter Skye, back in 2019. Abby is six minutes older than her twin brother Will, so her turn was next by birth order—Kevin seems to enjoy the bike adventures enough to plan a separate one for each of his three children. But this time, the plan changed when Kevin's wife Jennifer was diagnosed in January with breast cancer.
Jennifer is a local pediatrician, and the diagnosis was as much a shock for the Sanderfords as it is for all families touched by cancer. Kevin said after Jennifer underwent a successful surgery in April, she insisted that he and Abby keep their biking plans. Cattlemen's Days Tough Enough To Wear Pink is a nonprofit in the Gunnison Valley that provides tremendous resources for people who are dealing with a cancer diagnosis, and at that point the Sanderfords decided to partner with Pink.
"I'm pretty type A, and I think Jennifer is too. We like to think we're in control of things. And like for everyone, this wasn't on our calendar," said Kevin of Jennifer's diagnosis. "But you've gotta deal with it. And Pink helps people deal with it."
So, Kevin and Abby proceeded to pedal 4,249 miles this summer and raise over $30,000 for Pink.
"When you see and hear about the difference they're making in people's lives, it's pretty easy to get behind them," said Kevin.
Jennifer's health outlook has been very positive since her initial surgery, with one more surgery planned for mid-September. She did not need chemotherapy or radiation, and is taking one medication that appears to be working well. "She will be on a medication for the next five years, but she has a really good outlook," said Kevin.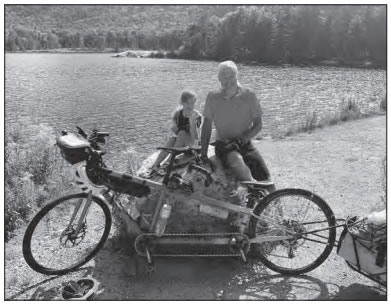 "The hardest thing for her was probably not being at work, feeling like she needed to be there for other people's kids," he says of Jennifer's treatment. "She loves what she does."
As for the epic ride that began in Washington State and ended in Maine, Abby and Kevin rode tandem with a trailer they called BOB, or beast of burden, and their rig was 12 feet long total. They shared some highlights in a Q and A session with the Crested Butte News.
For Abby: Have you always liked biking a lot?
Yes, except I never used to like this one trail by my house [the Deli Trail] that was really hard and bumpy. Now I like it though.
How was the big trip? What did you like best?
It was fun. The part that I really liked was how some towns have their own little animal, and they would have big statues. My favorite one was a giant duck, [Kevin says it was in Minnesota and stood 20 feet tall]. It had a button you could push and it would make quacking sounds if you pushed it.
I also liked stopping for different treats along the way, like this one place had really good brownies.
Kevin adds: She also liked Middlebury, Vermont. It was the steepest day, and Middlebury gap was the most challenging single climb, with 12 to14 percent grades. The challenging part is usually the funnest part. The next day was another high grade across the Kangamagus Scenic Byway in Northern New Hampshire.
What was the hardest part?
Doing two mountain passes in one day [Washington and Rainy Passes in Washington on Day 3 of the ride, including about 6,000 feet of climbing over 65 miles].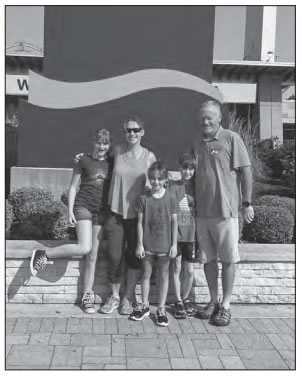 Favorite ride snacks?
Hostess Ding Dongs and a new flavor of Gatorade: lime and cucumber.
Any advice for aspiring distance riders?
Some hotels are good and some are bad…
For Kevin: How did you stay in touch with the family back home?
Usually we had phone calls at night, and we sent some letters and cards along the way.
How did you pack?
We were completely self-contained, so (in addition to what we wore) we carried a dry bag with two extra pairs of biking shorts and biking socks, two biking shirts and rain gear. We also carried extra tires, tubes, our own food, one pair of casual shorts and a casual shirt, a pair of sandals and one pair of underwear. We only camped a few nights at the beginning. After that since we were staying at hotels and motels we shipped the camping gear back. It meant we had to reach our hotels at night, so failure was not an option.
Longest day?
116 miles. And Abby did not have a meltdown!
Shortest day?
Probably 25 or 30 miles. We had a few of those.
Any company along the way?
My uncle came along for part of it. And two couples we know from Ouray biked with us for 10 days from Fargo, North Dakota to the Mackinac Bridge in Michigan. And you meet people along the way and then continue to bike with them. Someone I had met on a previous ride joined us for the final 900 to 1,000 miles.
And Jennifer and the other two children flew in to meet you at different points?
Yes, and that was good because it gave Jennifer something to look forward to as she was recovering at home.
She flew in to Great Falls, Montana for five nights, met us in Whitefish and followed along [by car] as we biked our way to Great Falls from there. We would meet up for lunch and dinner, and then at the hotel every night. Then we met up near Cleveland, Ohio to visit Cedar Point amusement park and the Rock and Roll Hall of Fame, and then a science museum.
Then she also flew in to meet us at the very end, in Maine.
Mechanical issues?
Yeah…but not too bad. We use Gatorskin tires, which are useful for touring. So we only one flat on the bike and one on the trailer. The bike is still in the shop getting fixed up though.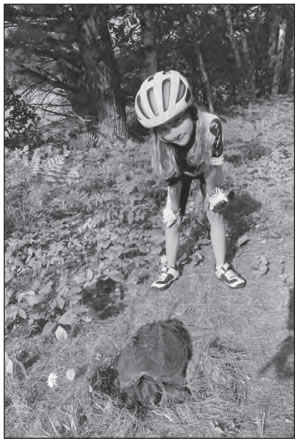 How was the weather?
We didn't have as much rain as usual, but lots of incredible heat. But you just get on there and you pedal. That's your job.
We did have a long, painful day riding into headwinds in eastern Montana. It was only 63-65 miles approaching the North Dakota border, but it took us about 9 hours.
A lot of this trip is mental. I could not have done it without Abby. Her go to line was "that's not so bad."
Did you take some days off?
We took about 5 or 6 days off. We did not take a day off based on weather, but based on towns with more interesting aspects and bike shops in case we encountered any issues with equipment.
What trip is next?
I think Will and I will do a bike trip across Europe. The kids are pretty competitive…Abby did the same ride that Skye did but when she was younger than Skye had been. Will won't be able to do the same trip younger than Abby was, so he wants to do more countries.
But Jennifer asked me to not do Will's trip next year because she wants a family vacation. I think I'd better listen or she might try poisoning me! So we will wait another year first.