There is something very special that happens when you bring together 48 local women of all ages to play ice hockey in honor and support of our local friends who are going through cancer.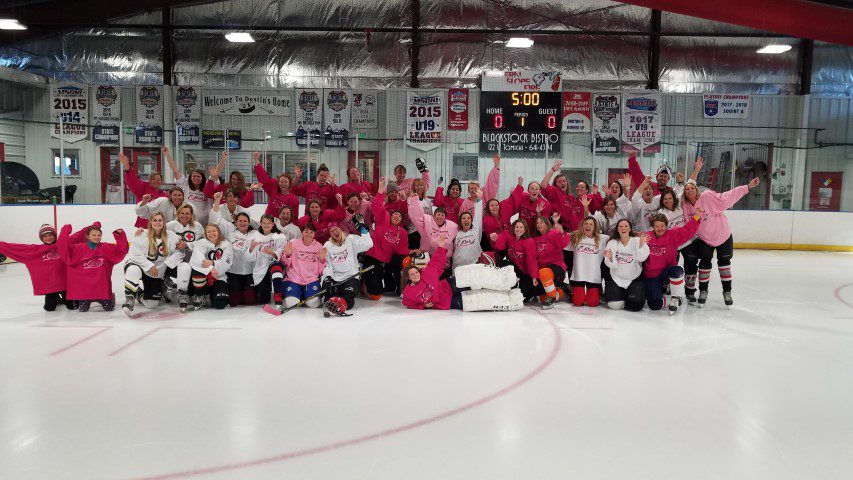 The Cattlemens Days Tough Enough To Wear Pink In The Rink fundraiser was started 3 years ago when a beloved coach in the hockey community was diagnosed with breast cancer.  At the third annual Pink In The Rink this weekend we had four incredible teams of women ranging in age from 12 to 57. Three of the teams had mothers, daughters and sisters playing together, which is pretty awesome!  
Pink In The Rink is held in October during breast cancer awareness month and all of the money we raise goes directly to Friends Of Pink which provides financial assistance for individuals in the Gunnison Valley who need help when they are faced with a breast cancer diagnosis.
Statistics tell us that one in eight women will be diagnosed with breast cancer in their lifetime and we have seen it affect our hockey community multiple times in the past few years.
This year it is impacting the Gunnison Watershed School community and there were a group of teachers, including our Superintendent,  who played in honor of one of their colleagues who has recently been diagnosed.
The championship game was an exciting one between the GVH Zamboobies and Team 47.8 .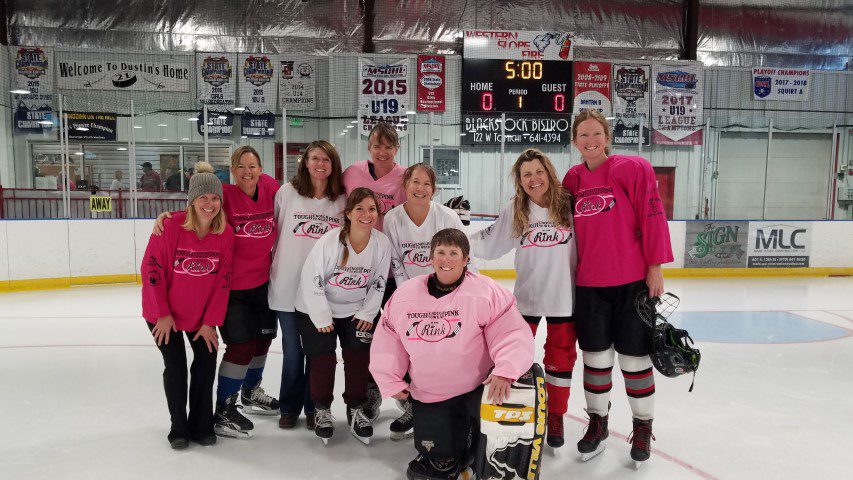 It went into overtime with a score of 1 to 1.  In overtime the Gunnison Valley Hospital team scored a goal for the win to continue to be the reigning champions.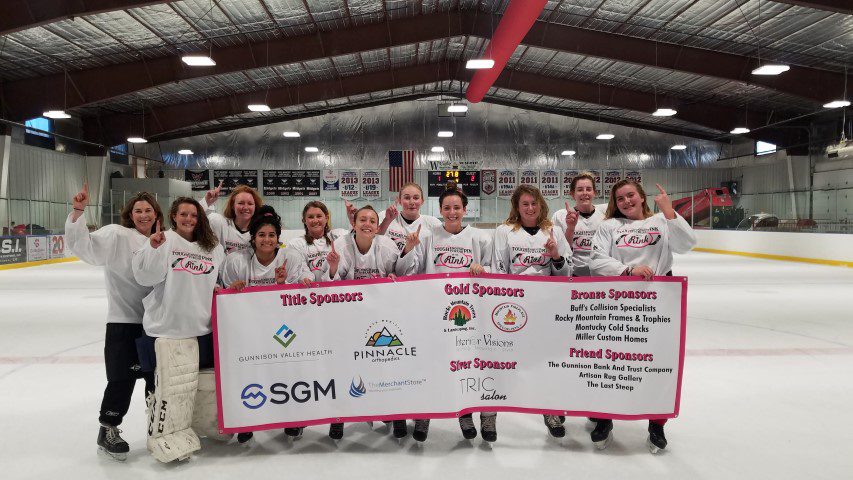 It was an emotional weekend full of tears and laughter and great camaraderie amongst an incredible group of women.   
We have many people to thank who made this weekend so special!   
Title Sponsors –  Gunnison Valley Hospital, SGM, The Merchant Store, and Pinnacle Orthopedics.
Gold Sponsors – Mountain Fireplace Specialists, Interior Visions, Rocky Mountain Trees & Landscaping Inc.
Silver Sponsor – Tric Salon
Bronze Sponsors – Buffs Collision Specialists, Rocky Mountain Frames & Trophies, Montucky Cold Snacks, Miller Custom Homes.
Friend Sponsors – The Gunnison Bank & Trust Company, Artisan Rug Gallery, The Last Steep.
Thank you to all of the women (and our goalie man Scott Faison ) who played this weekend.  Thank you to Jen Faison for being our DJ and scorekeeper and John Solanik, J Wenum, Shaughn Rourke, Jack Perkins, Mike Peterson, Dave Clement and Dan Gerrity for refereeing. Thank you to the Cattlemen's Days Royalty – Aspen McNulty and Genevieve Williams and all the TETWP volunteers who helped out. WEHA executive director Wendy Buckhanan for putting the tournament schedule together.
Everyone was playing with a special someone on their mind who they know who has been faced with this challenge …….we held those people in our hearts while we played our hearts out on the ice.  This tournament means so much more than winning…… it shows a community of solidarity and strength to anyone going through cancer. It takes a team to help our friends get through a cancer diagnosis and Tough Enough To Wear Pink's goal is to be an impactful part of that team to support our locals who are facing the challenge of cancer!
This community continues to amaze us and we are forever grateful!
Our sincerest thanks to everyone!
Cattlemen's Days Tough Enough To Wear Pink
Executive Director – Heidi Sherratt Bogart