Cattlemen's Days Tough Enough to Wear Pink offers amazing programs for patients. Please read about them below and contact us for more information about any of our programs.

Friends of Pink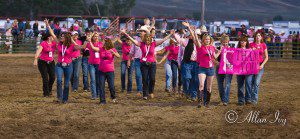 Friends of Pink is our patient assistance fund. $37,000.00 was granted in 2017 through the Friends of Pink program to help individuals in the Gunnison Valley who were impacted financially due to a breast cancer diagnosis (lost wages, travel expenses for treatment, etc.)
Please find our Friends of Pink Application here.
---
Tuffy & Bucky the Transportation Vehicles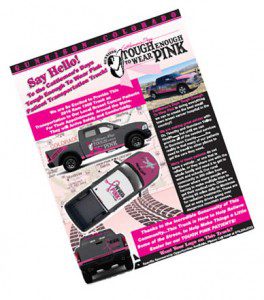 The Gunnison TETWP Truck, nicknamed "Tuffy," is a patient transportation vehicle. The 2016 Ram 1500 truck, custom-wrapped in the Cattlemen's Days TETWP logo, is designated to safely transport Gunnison breast cancer patients requiring advanced treatment to medical centers outside the area.
Since October 2016 when Tuffy the 1st TETWP transportation vehicle was purchased, the truck has been used to transport 11 breast cancer patients in the Gunnison Valley to treatment provided in a number of towns/cities in Colorado. Over the last 2 years, 28,000 miles have been put on the truck, 90% of those miles are from patient's use of the truck.
In the first three months after Bucky, the second TETWP transportation vehicle was generously donated, TETWP's transportation services were opened up to ALL cancer patients from Gunnison and Hinsdale Counties. Seven clients used the TETWP vehicles traveling a total of 7,260 miles!
Read more about how Cattlemen's Days Tough Enough to Wear Pink is helping patients reach their appointments safely and comfortably.
Just knowing that I could look forward to a very comfortable ride in Toughy helped me tremendously. Aside from the very "coosh" and smooth ride, the truck symbolized my journey with breast cancer. – Anonymous Breast Cancer Patient Read more…
Throughout my recent bout with breast cancer, I was so overwhelmed (in a good way!) by the never-ending concern and thoughtfulness of others. It truly warmed my heart. At the time, I wasn't often able to voice how touched I was by these gestures.

Tuffy became a symbol of the thoughtfulness and kindness that I experienced this past year. Each time that I was able to borrow Tuffy to travel to my numerous medical appointments and treatments, I felt "wrapped" in love and support from others, strangers and friends alike.

Thank you to all who make the availability of Tuffy (and Bucky) possible and to the wonderful TETWP organization! – Anonymous Breast Cancer Survivor
---

Ortho-Bionomy® Program
A wonderfully generous new program for TETWP. Karen Reader of Mountain Nugget Bodywork donates one session per week of Ortho-Bionomy® sessions to breast cancer patients in the Gunnison Valley! Her website has lots of great information about this practice. It is truly incredible and can be great for our ladies as they get through their cancer diagnosis and after they are through it all.
---
Make It A Great Day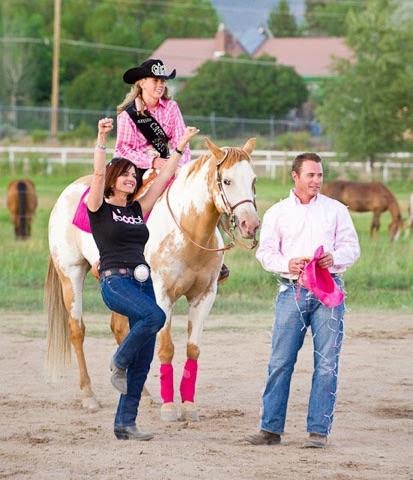 Cattlemen's Days Tough Enough To Wear Pink is pleased to announce a new program called "Make It A Great Day!" which will help Gunnison Valley residents who are diagnosed with breast cancer by providing coupons for them to utilize the integrative therapy services of the Integrative Therapies.
When our good friend and TETWP volunteer extraordinaire Edie Gibson was diagnosed with breast cancer and endured a double mastectomy, we wanted to honor her by creating this program! Edie has always said "Make It A Great Day" on her voice messages and emails and we believe in sending this positive message to the community, so TETWP pledged $3600.00 to get this program started.
Integrative Therapies is a program in conjunction with Gunnison Valley Hospital and consists of practitioners, teachers, physicians, nurses, therapists, acupuncturists, nutritionists, counselors, pastors, intuitives, coaches, trainers, artists, dancers, green builders, adventure guides, etc who have come together with the intention of expanding the awareness of the array of wellbeing support here in the Gunnison Valley.
"Make It A Great Day" TETWP coupons will be provided to breast cancer patients through their health care providers or the Integrative Therapies. The many therapies offered such as reiki, massage, acupuncture, light therapy, nutrition, etc have been proven to help cancer patients stay strong mentally and physically while they are going through their surgeries and treatments.
Research findings show that integrative therapies can help to boost the immune system, reduce pain and help patients stay strong:
There is substantial evidence that acupuncture can help to manage treatment-related nausea and vomiting in cancer patients.
Studies suggest that massage therapy may help to relieve symptoms experienced by people with cancer, such as pain, nausea, anxiety, and depression.
There is evidence that mindfulness-based stress reduction, a type of meditation training, can help cancer patients relieve anxiety, stress, fatigue, and general mood and sleep disturbances, thus improving their quality of life.
Preliminary evidence indicates that yoga may help to improve anxiety, depression, distress, and stress in people with cancer. It also may help to lessen fatigue in breast cancer patients and survivors.
Various studies suggest possible benefits of hypnosis, relaxation therapies, and biofeedback to help patients manage cancer symptoms and treatment side effects.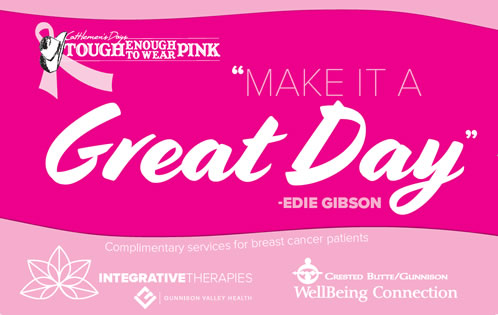 The goal of Cattlemen's Days Tough Enough To Wear Pink in conjunction with Integrative Therapies and Gunnison Valley Health is to take excellent care of our Gunnison Valley locals in every way we can when they are diagnosed with cancer.
For more information please contact Eva Paul at 970 648-7103 or Heidi Sherratt at 970 209-6332.
We have many people using the "Make It A Great Day" coupons already and would be available for interviews on how this program is helping them through a challenging time. Edie Gibson, who is a well-loved member of this community would also be happy to talk to you about her recent experience with breast cancer and this new TETWP program.
---
Breast Cancer Therapy Group

Cattlemen's Days TETWP Breast Cancer Therapy Groups are held every month on the second and fourth Mondays from 5 to 7 pm at the Conference Room at Gunnison Valley Hospital. Details about meetings will be posted on our Facebook Events Page.
Read more about the TETWP Breast Cancer Therapy Group here.
Living Journeys Cancer Support Group Meetings
Please click here to see a current calendar of Cancer Support Group Meetings including the TETWP Breast Cancer Therapy Group.
---
Mammo Mondays
We know mammogram screenings are not always top of mind. That's why you deserve to pamper yourself with Mammo Mondays. Simply schedule your mammogram screening during select times on a Monday and you'll receive a complimentary chair massage on us.