Crested Butte News
October 19, 2016
Women's Hockey Tournament, Family Fun Day scheduled for this Saturday
By Olivia Lueckemeyer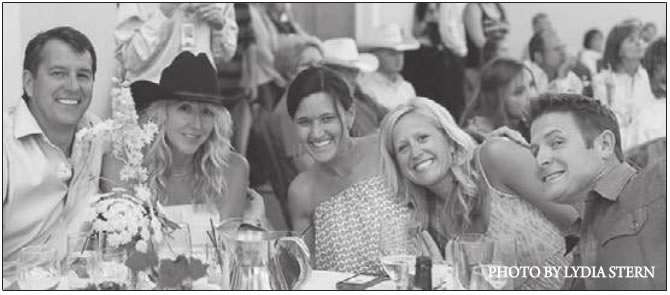 Tough Enough to Wear Pink is a household name in the Gunnison Valley because of its mission to combat breast cancer through education, prevention and fundraising. And while the organization is best known for its concert and auction each summer, it takes more than one major event to fight a vicious disease. Year-round, the TETWP team works to educate the public, provide financial and emotional support for victims, and support further research for finding a cure. In honor of Breast Cancer Awareness Month, TETWP offered several events to members of the community.
Casting for Recovery is a national nonprofit that combines the therapeutic sport of fly-fishing with breast cancer education and peer support to enhance of woman's quality of life post-diagnosis. This year, TETWP sent two local women to a retreat in Redstone, Colo., where they spent the weekend fly-fishing—an activity that is both physically and mentally beneficial for a woman in the throes of breast cancer treatment.
"One of the women who attended the retreat is in the middle of her radiation right now and is literally driving to Montrose every day for six weeks and only gets the weekends off," Heidi Sherratt Bogart, executive director of TETWP, said. "So she was really looking forward to getting away for the weekend."
Friends of Pink is TETWP's program that provides financial support to members of the community who may need help shouldering the monetary burden imposed by a breast cancer diagnosis. Transportation costs, especially, cause undue stress for women who have to travel outside of the valley for treatment.
"We provide gas cards that help with the expense, and we are working on getting a vehicle that people can use to take down to their treatments," Bogart said. "Ultimately our goal with TETWP is for people to not have to travel at all to get anything done. We would rather them have to get those services here."
TETWP, in association with breast surgeon specialist Dr. Stephania Timothy, has developed a strategic plan with the Gunnison Valley Hospital to eventually provide the complete range of services necessary to treat breast cancer locally. One major step in that direction is raising funds to purchase a 3D tomosynthesis machine, a top-of-the-line imaging device that can analyze dense breast tissue better than a mammogram. According to Bogart, this could make the difference between a terminal and treatable diagnosis.
"This is a new thing that is really serious and scary," Bogart said. "They are finding that over 50 percent of the population has dense breast tissue, which doesn't mean that breasts are large, but that the tissue is dense, so it is hard to read on mammograms. For a lot of people, that means their cancer isn't being found."
In many states, after receiving a mammogram doctors are required to notify a patient if she has dense breast tissue and what the implications are. However, in Colorado, this is not yet written into law. Part of Dr. Timothy's role is to work on the legislative side of the issue in order to mandate this as part of mammogram protocol.
"The information is important and could save some lives, but so many people don't understand what it means," Bogart said. "Just because you don't have large breasts does not mean they can't be dense. Women with a lower body mass index have a higher likelihood of having dense breast tissue, and if you have dense breast tissue, you're at a higher risk for breast cancer."
Education is a vital piece of TETWP's mission, and in the spirit of keeping the public informed, the organization has partnered with the Gunnison Valley Hospital, the Wellbeing Connection and Living Journeys to offer events that bring women together to learn about breast cancer while also enjoying some rest and relaxation.
"For the Wellness Series, we wanted to cover the educational side," Bogart said. "We kicked off the second year this month with a Ladies Spa Night, where we offered free mammograms to people without insurance. We also had the Wellbeing Connection there giving massages, Reiki and integrative therapies."
Each Wellness Series event also incorporates an educational piece with Dr. Timothy, who is on-hand to answer questions about breast cancer awareness and prevention.
This Saturday, October 22, TETWP will host a hockey tournament fundraiser, "Tough Enough to Wear Pink in the Rink," and Family Fun Day to raise money for the Friends of Pink. Bogart got the idea after two of her friends from the hockey community were diagnosed with breast cancer. While the hockey tournament is for women only, the event will offer a variety of activities for men, women and children, such as a mechanical bull, roping lessons with the Gunnison Roping Club, and a ninja obstacle course put on by Synergy Athletes.
"We want everyone to come—kids and all ages," Bogart said. "There will be a whole bunch of fun stuff going on that day at the indoor and outdoor rinks."
There are TETWP chapters across the nation. Due to the generous support of the community, the Gunnison Valley chapter is ranked number one in fundraising. Over the past 12 years, TETWP has raised $1.7 million.
"It's a really amazing thing and a huge thing for our community to be proud of, because we are very small compared to others doing TETWP," Bogart said. "The fact that we are so successful is because our community is so amazing and supportive."
All money raised by the local TETWP chapter stays in the Gunnison Valley and must be used for breast cancer, so every dollar given has a direct local impact. As Bogart says, "Breast cancer touches everybody.
"It's one of those cancers where, thank goodness, you can catch it early and be okay, but if you don't catch it early, it's still cancer," Bogart continued. "Early detection is saving more life, and that's a great thing, but it's not going away."
Bogart advises all women over 40 to follow the National Cancer Society's guidelines and schedule a mammogram. In the case of a family history of breast cancer, it is recommended to begin receiving mammograms earlier in life. For more information on breast cancer prevention and how you can donate to the Gunnison TETWP, visit www.gunnisontetwp.com.