By Chris Rourke, Times Staff Writer
Gunnison Country Times, June 18, 2015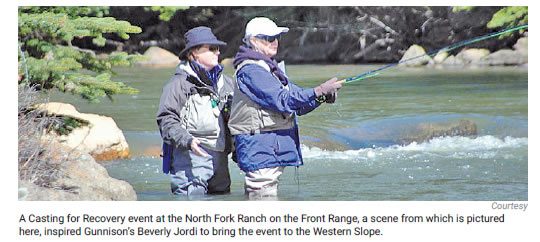 The sound of the river, a gentle breeze and the joy of learning a new skill. They all can bring a healing touch to harried lives. But for women who have fought the battle against breast cancer, the impact of a retreat on the river is immeasurable. That's why Beverly Jordi of Gunnison is working hard to bring such an experience to women on the Western Slope.
She is currently fundraising for a national program called Casting for Recovery and building local partnerships for the betterment of breast cancer survivors. Jordi — who has long had a passion for fly fishing — was first introduced to the organization through angling events. In May, she attended a Casting for Recovery retreat at the North Fork Ranch on the Front Range, and what she saw had a strong impact upon her. She found that combining her love for fishing with caring for women simply was a natural fit."I've been a hair stylist and taking care of women for 40 years, so it just seemed to go hand in hand," Jordi said. Casting for Recovery is a national nonprofit that sponsors fly fishing retreats for women in every stage of breast cancer recovery. The retreats are fully staffed with medical and counseling professionals as well as fly-fishing instructors. During their time on the river, women learn the art of casting — a motion that provides therapy for joints and soft tissues affected by radiation and surgery. They spend time with other survivors, participate in counseling and ultimately gain a new outlet — fly fishing — as relief from the stresses of fighting cancer. "They go away from the event with such great feelings," Jordi said. "And they get to spend time connecting with other women with similar challenges."
Following her own experience at the retreat, Jordi became determined to bring the event closer to home by raising $30,000 — the cost to host a retreat. The national organization has agreed to match local funds raised up to $10,000. Her goal is to launch the retreat next summer. Jordi began raising money by forming a partnership with the local chapter of Tough Enough To Wear Pink (TETWP), which benefits local breast cancer treatment services. TETWP has agreed to sponsor two participants in the fly fishing retreat planned for next summer. Additionally, a guided fishing tour donated by Almont Anglers will be auctioned at the annual TETWP Songwriters' Night July 7. Money raised from the fishing tour will go toward the local Casting for Recovery retreat. TETWP's Executive Director Heidi Sherratt-Bogart sees a
direct tie between the goals of the two nonprofits. "It was clear after learning about this unique therapeutic program for breast cancer survivors that we wanted to be involved," Sherratt-Bogart wrote in an e-mail. "These fly fishing getaways are quite special. … these fishing retreats are so meaningful to these women and we are thrilled to be able to send two of our own local ladies to this extraordinary weekend."
Jordi is looking for other sponsors as well. Recently, she said, Trout Unlimited of Glenwood Springs committed $2,000 to the event, and she hopes to gain more support from her fishing friends as well as the community at large. "I'll just run up and down the valley," Jordi laughed. For more information about Casting for Recovery's Western Slope event, contact Jordi at bjordi@gmail.com, or visit castingforrecovery.org.