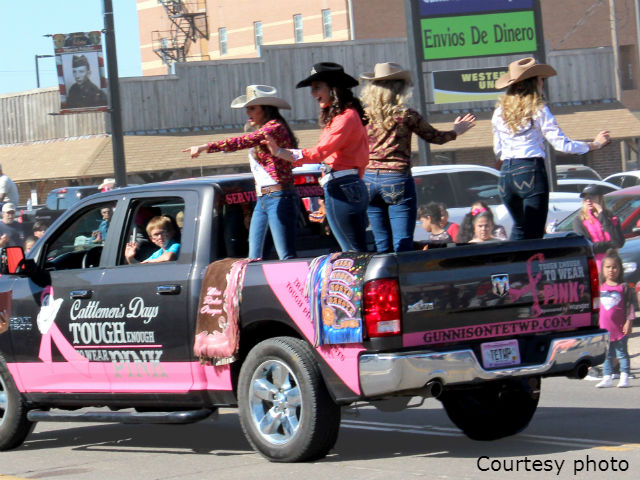 Courtesy of Ted Harbin
Original Article
Published by ProRodeo.com
5/23/2018
GUNNISON, Colo. – "Tuffy" has been a godsend for many breast cancer patients in the Gunnison Valley.
The RAM 1500 pickup was purchased a couple years ago by Cattlemen's Days Tough Enough to Wear Pink to serve as transportation for those families that receive treatment outside Gunnison County. In addition to that, the vehicle is serving a larger role in professional rodeo.
"We hope that this truck and this committee will inspire other committees around the world to do things to help those that are battling cancer," said Andy Stewart, the voice of Cattlemen's Days rodeo, which takes place July 12-14 in Gunnison.
Just two weeks ago, members of the Cattlemen's Days committee showcased "Tuffy" at the Guymon (Okla.) Pioneer Days Rodeo, where Stewart was announcing the event that has been inducted into the ProRodeo Hall of Fame.
"We go to other rodeos from time to time to just show the committees what their Tough Enough to Wear Pink campaigns could do," said Karla Rundell, who attended the rodeo in the Oklahoma Panhandle with committee president Kevin Coblentz. "Of course, we are very proud of what we've done with our pink campaign, but this is more of a way to inspire others to do as much as they can."
The pickup will return to the Elizabeth (Colo.) Stampede in a few weeks and has also been on display in Greeley, Colo., during the Fourth of July rodeo there.
The Cattlemen's Days Tough Enough to Wear Pink campaign has raised more than $2 million in its 13 years of existence. That money is used to provide all the needed services for breast cancer detection and cancer care in Gunnison.
"With this truck, we are reaching beyond the hospital, doing more than buying a piece of equipment," Rundell said. "We are getting straight to the breast cancer patients."
That's imperative. Some patients still have to travel for specific services throughout Colorado. Having a reliable vehicle helps make those ventures more stress free.
"One thing that is valuable to breast cancer patients in their area is transportation," Stewart said. "Denver is 200 miles from the rural community, a farming and ranching community, and those that have to go to Denver for treatment may not have any transportation or maybe it's not reliable or maybe the entire family uses one vehicle.
"The Tough Enough to Wear Pink committee does that free of charge, transporting folks back and forth to Denver or Montrose. This truck is there to relieve some of the stress and help make things a little easier for patients."