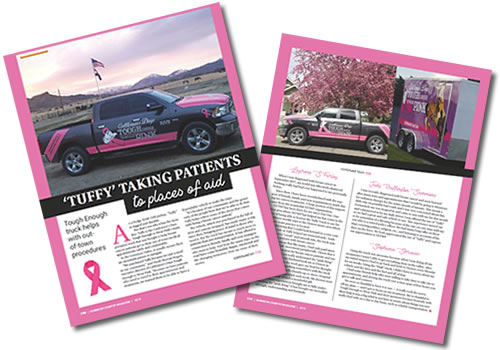 Original Article Published by Gunnison Country Magazine 2018
Download a PDF
Tough Enough Truck helps with out-of-town procedures
As a Dodge RAM 1500 pickup, "Tuffy" is rugged and durable.
But that's not why it has the moniker. Tuffy is the Cattlemen's Days Tough Enough to Wear Pink's transportation truck that was bought to help breast cancer patients get to their out-of-town medical appointments safely and comfortably.
In the Gunnison Valley, it usually means there are mountain passes to navigate.
"We purchased Tuffy because we saw a need in our community," said Heidi Sherratt Bogart, executive director of Cattlemen's Days Tough Enough to Wear Pink. "Becuase we have patients who need to travel to their appointments and treatments, we wanted them to be able to have a dependable vehicle to make the trips.
"It's because of our community and the generosity of the people here that we're able to to do that. Tuffy helps relieve some of the stress that comes with being a breast cancer patient."
The vehicle, which was purchased in the fall of 2016 and custom-wrapped, has made many-a-trip since then, bringing peace of mind to those who need it.  But the truck has meant so much more to patients than just transportation.  it has offered a connection to friends, family, and even strangers who want to help. And from the many trips on the road have come beautiful, happy, emotional and life-changing memories.  Here are some of their stories.
Laurene S Farley
When I was diagnosed with breast cancer in September 2017, my world was effectively shattered. Nothing really bad had ever happened to me personally before.
Since then, I have been overwhelmed with the support of friends, family and new acquaintances made during my cancer treatments. A large portion of this support came from the wonderful TETWP organization.
TETWP has been there for me since Day One. One great area where TETWP has helped me has come in the form of being able to borrow the Tuffy Truck to use for my almost-weekly trips to the Denver metro area where my care team practice is located. Just knowing that I could look forward to a very comfortable ride in Tuffy helped me tremendously.
Aside from the very "coosh" and smooth ride, the truck symbolized my journey with breast cancer. By this, I mean that like many, I had only paid attention to the 'Pink' movement peripherally. I knew that it was a support system for breast cancer patients and survivors, but I did not really understand the "pink thing." Each time that my husband took me to Denver in Tuffy, just riding in the truck gave me food for thought. People who saw us parking somewhere with the truck would give me a friendly thumbs up or cheer; Hospital
valets asked about the truck each week; My doctors were so excited to hear of such a wonderful gift. All of these experiences brought me to fully understanding the "pink thing." It has brought me incredible strength, understanding, and fortitude.
Judy Buffington Sammons
I was recently diagnosed with breast cancer and soon learned after many tests and appointments that I would be going to Montrose for radiation therapy for the entire month of January. This meant a daily trip on possibly bad roads and I was very concerned about this. Fortunately, my son stepped in and came to stay with me for this month and volunteered to be my daily driver. I was offered the use of "Tuffy" so we had a great and safe vehicle to use. This experience turned out to be somewhat of a blessing because of the one-on-one time with my son who is a retired police officer. We had many long talks on these trips covering politics, religion. etc., and listening to accounts of his days on the force. We both appreciated the use of "Tuffy" and express our appreciation to TETWP.
Stephanie Shrieves
Using the truck was awesome because when I was doing all my treatments I wasn't able to get everything done in the valley. After my initial surgery, I had to go back and forth to Denver every Monday for six weeks. Using the "Pink" truck, I didn't have to worry about my vehicle and the tires and the fuel and all of that.
I had some friends help who were willing to take time to take me to appointments, and driving the truck over a time span of four hours you get to talk and connect. We were so thankful to have it to use — it really took the worry off my plate — and I got to focus on my treatment.
We're thankful to Tough Enough to Wear Pink and their sponsors because honestly with their help it was a big relief to not have to worry about things you normally deal with on a day to day basis, such as reliable transportation.