By Mackenzie Bode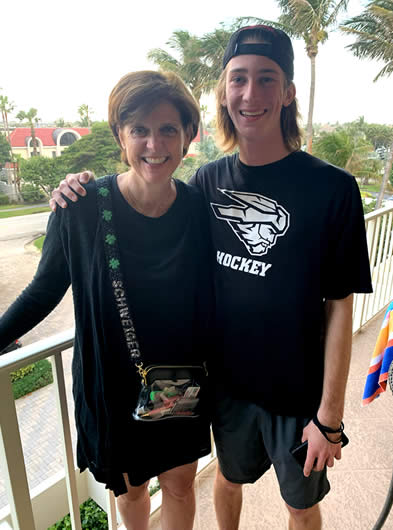 Because of the pandemic, the Western's Club Sports Men's Hockey team is playing a shortened season this year. As a result, they have been busy getting involved in the community and decided to make a dedicated donation to Gunnison's Tough Enough to Wear Pink.
Their donation was dedicated to Hunter Schweiger's mom. Hunter, a junior at Western who has played three seasons on the Western team, grew up in Libertyville, IL with his parents, two brothers and a sister. "The big family is what made me who I am today", Hunter explains. "When I was a sophomore in high school, I found out my mom had stage five breast cancer. It was the worst news I had ever heard".
The men's team is a tight knit group, when asked about his experience on the team, Hunter replied, "I have been playing hockey since I was five. When I found out Western had a team, I was super stoked. The guys, the coach, everyone out there is just having fun together and that is the most important thing about it all". The team decided to donate $650.00 to a great local cause and chose Gunnison TETWP in honor of Hunter's mother, who is still battling breast cancer. "Five years later, my family and I have grown stronger and will continue to grow strong until this battle is won".
Tough Enough to Wear Pink thanks the Western Hockey team for their thoughtful donation and we are all rooting for Mama Schweiger!