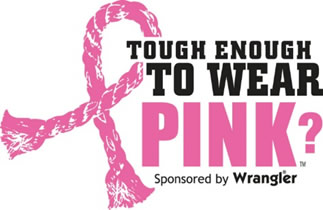 Making a big impact—one small donation at a time.
Las Vegas, NV. Dec. 7, 2016.   A milestone was reached Monday night at the 12th Annual Wrangler® Tough Enough to Wear Pink™ (TETWP) Night at the Wrangler National Finals Rodeo.   The grassroots cowboy campaign has exceeded the $25 million fundraising mark!
The campaign was created in 2004 by Wheatley, wine industry executive and matriarch of a professional rodeo cowboy family and Karl Stressman, former director of special events for Wrangler and now Commissioner of the Professional Rodeo Cowboys Association (PRCA). The idea was to raise money and awareness for breast cancer by challenging rodeo competitors and fans alike to wear pink. Wrangler is the title sponsor of TETWP and a portion of proceeds from everything sold within the Wrangler Tough Enough to Wear Pink merchandise collection goes back to the campaign fund.
Along with the generous support of western businesses such as Wrangler, Montana Silversmiths, Twisted X Boots and Purple Cowboy wines, Wrangler TETWP relies on the hard work of regional rodeos and western events across the country. The strength of the campaign is funds raised stay locally to benefit community breast cancer charities. It is the dedication of volunteers on the ground at local events that drives the campaign.
"Over 300 rodeos and events participate each year, with the support of Wrangler, the title sponsor of this campaign. Small donations add up to make a tremendous positive impact for families facing breast cancer and the entire community," commented Wheatley.
A notable example of the grassroots efforts is the Cattlemen's Days Rodeo in Gunnison, Colo. A long-time Top Five Wrangler TETWP fundraiser, the Gunnison western community has raised close to $2 million over the years to support the fight against breast cancer in their hometown.
Among their goals is to make Gunnison Valley Health the number one rural hospital for breast cancer care in the U.S. by providing funds for services, medical equipment, and support. Money raised by the campaign also financed the purchase of a patient transportation vehicle. The 2016 Ram 1500 truck, custom-wrapped in the Wrangler TETWP logo, is designated to safely transport Gunnison breast cancer patients requiring advanced treatment to medical centers outside the small community, such as in Denver. These journeys can take up to 200 miles one-way over winding country roads and narrow mountain passes.
Lacey Wheatley, Terry Wheatley's daughter-in-law, is the Director of Wrangler TETWP and coordinates with rodeos and other non-rodeo organizations to create the pink-themed fundraisers. Her daughter Katie supports the social media outreach for the campaign.
Hats Off to the Top Five Wrangler TETWP Fundraisers in 2016
–          C4CR/NMSU Aggies TETWP-Las Cruces, N.M.
–          Cattlemen's Days Rodeo – Gunnison, Colo.
–          Wrangler TETWP of Montana-Missoula
–          Crosby Fair and Rodeo-Crosby, Texas
–          Rancheros Visitadores-Solvang, Calif.
About Wrangler® Tough Enough To Wear Pink? ™
Wrangler® TETWP™ was created by entrepreneur and breast cancer survivor Terry Wheatley along with Karl Stressman to bring the sport of professional rodeo and the western community together to rally against breast cancer.  Since its inception in 2004, Wrangler TETWP has empowered rodeos in the U.S. and Canada to focus attention on the need for a cure.  To date, the campaign has raised $25 million for breast cancer charities, most of which stays right in the local communities. The grassroots movement has inspired other sports communities to mount their own Wrangler TETWP campaigns, spreading a message of hope and support that reaches beyond the rodeo arena to competitors, families, and fans across America. For more information on how to help, visit www.toughenoughtowearpink.com.
About Wrangler®
Wrangler® is proud to be the title sponsor of Wrangler® Tough Enough to Wear Pink™ and is available nationwide in specialty stores, including work apparel chains, farm & fleet, and western stores, as well as through online and catalog retailers, and www.wrangler.com. To find a retailer or for more information on the Wrangler® family of products, visit www.wrangler.com or call 888-784-8571.