Winter Songwriter Shuffle Series
Come one and come ALL. The Winter Songwriter Shuffle Series kicks off December 16th at the Elevation Hotel with Nashville singer- songwriter stars Emma Zinck, Marla Cannon Goodman, and Ava Paige.
Sponsorships Are Available
Please contact Heidi Sherratt at 970-209-6332 if you would like to sponsor the Winter Songwriter Shuffle Series.

Discounted Elevation Hotel rates are available for people who buy tickets.  If interested, please email Heidi after you receive your ticket confirmation.
Winter Songwriter Shuffle Concert Dates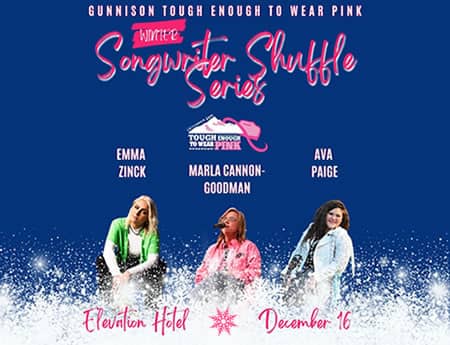 Sat Dec 16th, 6:30 PM
ELEVATION HOTEL | ARTIST BIOS
Emma Zinck
Marla Cannon-Goodman
Ava Paige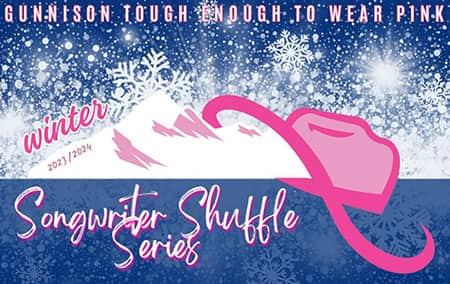 Thu Mar 14th, 6:00 PM
ELEVATION HOTEL
Kick Off
Songwriter Shuffle
VIP Event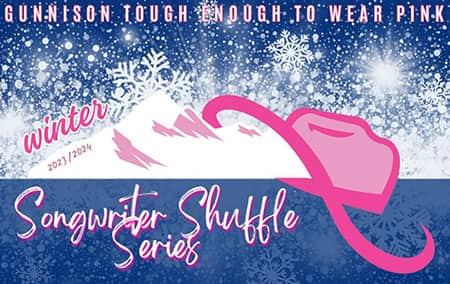 Fri Mar 15, 6:30 PM
CRESTED BUTTE CENTER FOR THE ARTS
Winter
Songwriter Shuffle
Concert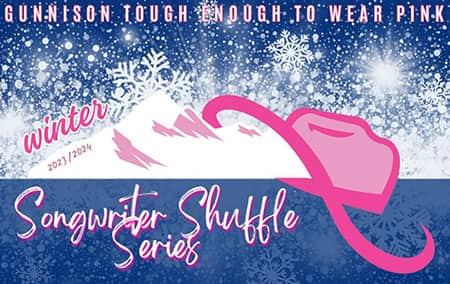 Sat Mar 16th, 6:30 PM
CRESTED BUTTE CENTER FOR THE ARTS
Winter
Songwriter Shuffle
Concert
Singer-Songwriters
Marla Cannon-Goodman, Ava Paige, and Emma Zinck
Elevation Hotel, December 16th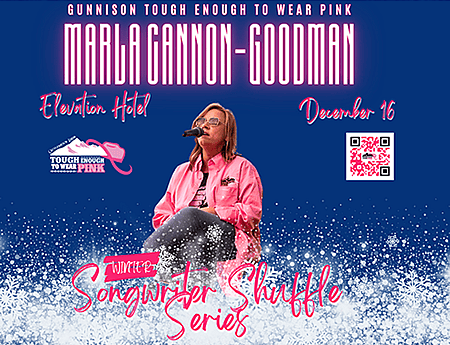 Marla Cannon-Goodman
Marla has been a member of the Gunnison TETWP family for a long time and we are so grateful to have her back again! Raised in Kingston Springs, Tennessee, where she had a front row seat for country music history as she watched her father, Buddy Cannon, shepherd the careers of new and legendary artists as a producer, songwriter and record label executive.  Now, she has earned her own place as one of country music's most-beloved and respected hit-makers.
Marla was working as a nurse when her song "The Fool", recorded by Lee Ann Womack, reached #1 on the country charts.  She has had cuts by everyone from Sammy Kershaw, Billy Currington, Blake Shelton, Eric Church, Kenny Chesney, George Strait and many others.
Marla has twice more reached #1 status with "Ten Rounds of Jose Cuervo" by Tracy Byrd, and "Cleaning This Gun" by Rodney Atkins.  You can also find her name on the Willie Nelson / Merle Haggard duet album "Django And Jimmie", "Stealing Home" by Willie Nelson, and "Same Devil" by Brandy Clark (feat. Brandi Carlile).
ARTIST LINKS
Spotify Playlist
YouTube Playlist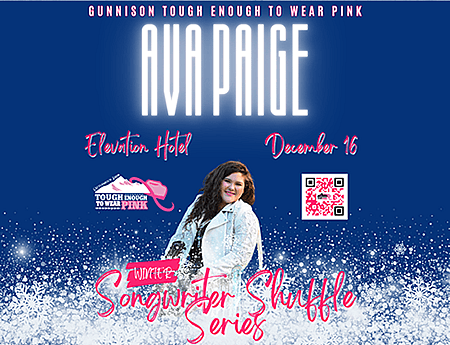 Ava Paige
For several years now, even the most experienced songwriters in Nashville have been both astonished and thankful they were put in a room with 19-year-old country music artist, Ava Paige.  
Ava works with some of the industry's best, including Marla Cannon-Goodman ( "The Fool" /Lee Ann Womack) Kendell Marvel ("Either Way /Chris Stapleton), Terri Jo Box ("God Bless the Boy"/Cody Johnson), Tony Lane (Little Past Little Rock/ Lee Ann Womack), John Bettis ("Human Nature"/ Michael Jackson ), and artists such as Drake White, Craig Campbell, John Schneider, and Charles Esten. 
With her music career traveling in the fast lane, Paige was delivered a blow just before her 15th birthday. She was diagnosed with leukemia. Gigs and songwriting were put on hold and replaced with chemotherapy treatments. Ava is excited to announce she finished all treatments for leukemia on Dec 13th, 2021 and is cancer-free! Paige is determined to pay it forward by forming her own charity, Pick'n and Kick'n Cancer With Ava Paige. She's also involved with a number of other charities including Rally Foundation and Children's Miracle Network; helping raise over 10 million dollars in 2022 alone.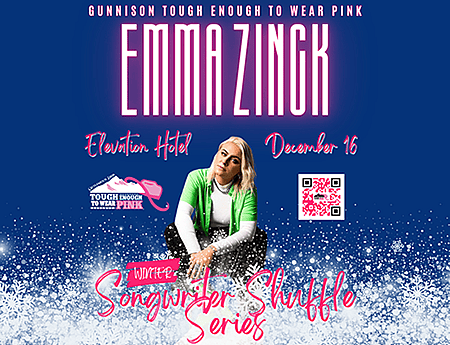 Emma Zinck
Armed with her guitar, vocals, and dynamic presence, Emma captivates fans on any stage. The 26-year-old from Fredericksburg, Virginia has been in Nashville for the past 6 years writing with several hitmakers and playing shows all around the world.
She recently signed her first publishing deal at SoNash Publishing with Bridgette Tatum, Juli Griffith, and Travis Chaney. Emma and Bridgette are currently co-producing a project to follow.