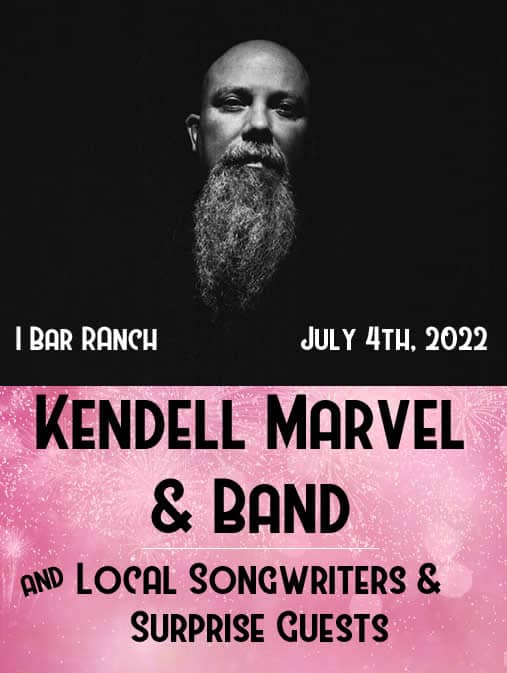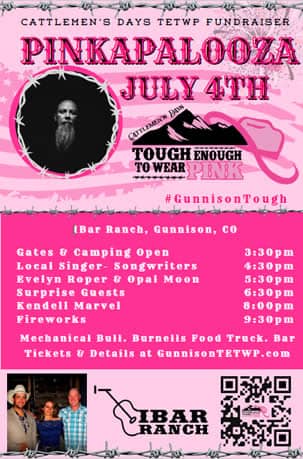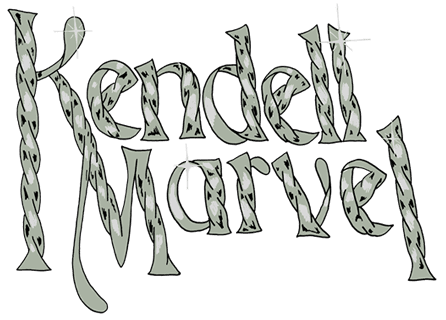 Kendell Marvel & Band, Local Singer-Songwriters, and Surprise Guests
July 4th, 2022, I Bar Ranch
Mechanical Bull
Burnells Food Truck
Bar
Gates and Camping Open 3:30 PM
Local Singer-Songwriters 4:30 PM
Evelyn Roper & Opal Moon 5:30 PM
Surprise Guests 6:30 PM
Kendell Marvel & Band 8:00 PM
Fireworks 9:30 PM
TICKET PRICES
Lawn $45.00
General Admission Under the Roof $75.00
VIP Reserved Under the Roof Front 5 Rows $150.00
Children Ages 8 to 17 $20.00
Adult Camping $15.00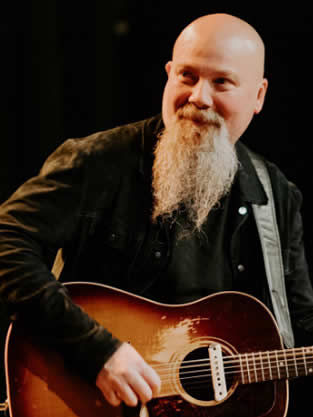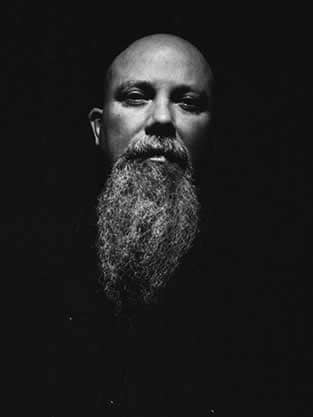 KENDELL MARVEL
Solid Gold Sounds
Kendell Marvel wrote and recorded Solid Gold Sounds in a matter of days, but it took a lifetime in country music to get there.
"Country was always my thing," Marvel says. "My dad got me a guitar when I was 5, taught me a few chords, and I started learning country songs. It probably got me through a lot of times I didn't even realize when I was kid. It felt like those songs were speaking to me."
The new project is Marvel's first release for Easy Eye Sound, the Nashville label launched by Dan Auerbach of The Black Keys. Rather than dipping into their own catalogs, Marvel and Auerbach co-wrote nine of the album's 10 songs, rounding out the collection with a lush rendering of the Bee Gees classic, "I've Gotta Get a Message to You."
Auerbach co-produced the album with Dave Ferguson (Johnny Cash's American Recordings). As one of the first people to discover Marvel's new creative direction, Ferguson made the necessary introductions that led to creating Solid Gold Sounds.
"It was very easy and collaborative," Auerbach says. "These songs had to tell the story about Kendell and his life as a songwriter because I wanted that to be a focus, too. He's not craving the stage or craving the spotlight. This record comes from a humble place, which I really love."
In some ways, Solid Gold Sounds is a throwback to Marvel's formative years, when distinctive artists like Waylon Jennings, Willie Nelson, and Charlie Rich dominated the radio. Yet the album also reflects Marvel's life now – as an accomplished songwriter, an incredible singer, and a proud father and husband. Listening to it as a whole, there's a mature perspective that comes through his rumbling vocals – one that reflects nearly 50 years of his own experiences and influences.
"Kendell has this amazing voice, and when he backs it off a little bit, it opens up and sounds humongous," Auerbach says. "It's so resonant and the microphone just eats it up. We got him to sing a little softer on this record, not to actually sound softer, but so we could turn him up louder."
"They brought the singer back out of me," Marvel says. "I'll always be a songwriter, but I want people to see the artistic side of me."
To round out the writing sessions, Auerbach brought in collaborators, such as country legend John Anderson on "Hard Time With the Truth." Other songwriters on the project include "Big" Al Anderson, Ronnie Bowman, Pat McLaughlin, Paul Overstreet, and Bobby Wood. Like these writers, Marvel has had his share of mainstream success but few contemporary country artists are seeking them out these days. Because of that, Marvel decided to quit writing for radio.
"As a professional songwriter, you have to get on the radio. That's your job," he explains. "There came a time when the stuff you had to write to get on the radio, I wasn't willing to do anymore. I'd done pretty well as a songwriter up until that point, and made a few decisions where I didn't have to put myself in that position. So I said, 'I think I'll make a record.'"
Although there's an undeniable swagger throughout Solid Gold Sounds, Marvel proves to be an exceptional balladeer on love songs like "When It's Good" and "Musta Kept It For Himself." He gently offers a message of forgiveness on "Let It Go," while "Roots of My Raisin'" concludes the album with a nod to the foundation provided by his family.
Marvel's father worked as a welder in the coal mines of Southern Illinois and would frequently bring his buddies home to listen to his five-year-old son, who had an unusually deep singing voice for a kid. By 10 years old, he was singing with the band in a local dancehall.
At 14, Marvel's life took a tragic turn when his older brother was killed. His parents divorced shortly after that. For a fresh start, he transferred to a different high school, where he met his future wife. Basketball games and local gigs were keeping him up late – and teachers kindly overlooked his morning naps in the classroom. When he was around 17, he was introduced to an artist manager and music attorney in Nashville through a mutual acquaintance. Although Marvel wanted to be a recording artist, he heeded their advice about learning to write songs, too.
"So I honed my craft," he says, "and my motto was 'I'll try to write with people bigger than me.' I still do that. There are always things to learn."
After high school, Marvel jumped into performing full time, but feeling burned out and needing to support a growing family, he took a job at a tire factory and essentially gave up on music. Then out of the blue, the Nashville attorney called to check in. Marvel lied and said he was still actively involved in music – and then realized it was, as he calls it, "do or die time."
At 28, Marvel moved to Nashville. An artist development deal with RCA didn't pan out, so he turned to songwriting, allowing him the flexibility to see his kids grow up. "I wouldn't change anything about that," he says firmly.
Today his deep songwriting catalog offers hits like Gary Allan's "Right Where I Need to Be" and Chris Stapleton's Grammy-winning single, "Either Way." Country artists like Brothers Osborne, Jamey Johnson, Jake Owen, Blake Shelton, George Strait, and Lee Ann Womack have cut his songs, too. Meanwhile, witnessing the rise of individualistic artists like Jason Isbell, Kacey Musgraves, and Sturgill Simpson encouraged Marvel to get back in the game.
"Those artists were saying things that most people weren't saying, and they were writing what they knew," Marvel observes. "They were doing it on their terms. That's inspiring for a guy like me. Everybody wants to do their own thing, and if you can do that, and be your own person, I think you're a fool not to do it."