Father and daughter raise breast cancer awareness
Original Article Published by Gunnison Country Times
September 2, 2021
Kevin Sanderford and his daughter, 9-year-old Abby, embarked on a two-month 4,249-mile cross-country journey from Anacortes, Washington to Bar Harbor, Maine this summer in an effort to raise awareness for those impacted by breast cancer.
This trip has taken on extreme importance for Kevin and Abby after learning that their wife/ mother Jennifer was diagnosed with breast cancer earlier this year.
What once was a fun cross-country bonding trip between father and daughter has turned into an even more meaningful undertaking, embodying the mantra of "pedal for pink" to raise breast cancer awareness and support those battling this terrible disease. In collaboration with Gunnison's Tough Enough to Wear Pink campaign, the Sanderfords are spreading awareness, sharing inspiration
and raising money on a national scale to benefit other breast cancer patients and their families.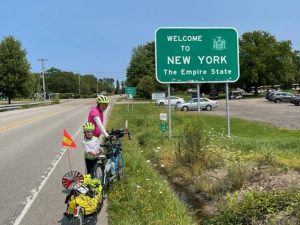 The Sanderford's cross-country trek began June 7 and concluded Aug. 15, showing how intensive and time-consuming such an endeavor truly is. This is a story of love, determination, resilience, and family coming together.