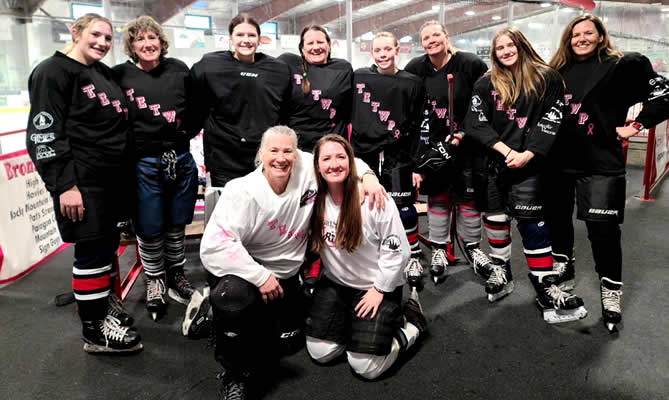 PINK IN THE RINK 2022
The 6th annual Tough Enough To Wear Pink – Pink In The Rink women's hockey tournament was a huge success and a ton of fun! 
Thank you to all the ladies that came out and played in this tournament to not only support women in our valley with breast cancer, but also support each other as team mates, mothers, daughters, and friends. 
Congratulations to the Tittie Committee on their Championship game!
Thank you to all the referees, scorekeeper – Jen Faison, DJ – Triple L, TETWP volunteers, announcers Sam Buckhanan and John Solanik and to the Jorgensen Ice Rink staff. 
Our sponsors are the best and we want to thank them for their generous support! Please see a complete list here.
This event is so much more than just a hockey tournament.  It brings together incredibly inspiring and strong ladies in this valley and together we do amazing things!  This year $30,000 was raised for Friends Of Pink which gives financial assistance to women going through a breast cancer diagnosis.  
One of the best stories from the weekend is about the winning team.  It was the U19 Girls West Elk Wolverines and their moms.  The girls were challenged to raise money to cover their entry fees and they ended up raising $2760.00!  Pretty impressive!  We wish them luck this weekend in the state finals!
To everyone who helped make this weekend successful and too much fun……..
THANK YOU!!
With much appreciation and gratitude,
The Cattlemen's Days Tough Enough To Wear Pink Board & Staff