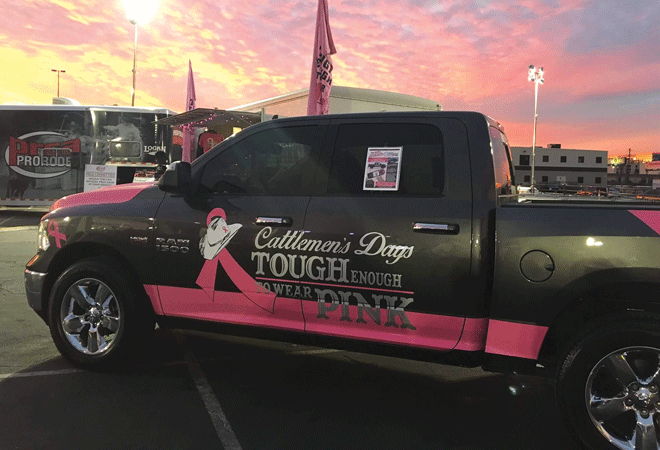 Original Article, Crested Butte News
October 23, 2019
By Katherine Nettles
October is National Breast Cancer Awareness Month, and locally, Cattlemen's Days Tough Enough to Wear Pink (TETWP) offers myriad resources to the community in the way of awareness, support and assistance. The powerhouse non-profit provides screening, wellness support and financial resources to women and families in the Gunnison Valley and has partnered with Gunnison Valley Health to improve screening and treatment. 
TETWP reported that its July 2019 fundraising efforts raised more than $365,000 bringing the total raised since it began in 2005 to more than $3 million. These funds are all used locally to provide breast cancer support, awareness and programs—and 100 percent of these funds stay here in the Gunnison Valley. TETWP has collaborated with Gunnison Valley Health to provide high-level care by way of physicians, equipment and services. TETWP purchased a $370,000 Hologic 3D Tomosynthesis machine with the addition of the renowned Radiology Imaging Associates (RIA) at GVH, which together provide high-level imaging.
According to a 2016 Community Health Needs Assessment, cancer care is one of the highest priority needs identified by residents of Gunnison County, with breast cancer representing the largest percentage of cancers diagnosed. TETWP works to support these patients who are navigating a complex health system while focusing on getting treatment—and its efforts toward breast cancer support also help other cancer patients in the valley.
In 2017, TETWP and GVH funded a new position: an Oncology Nurse Navigator to help any person in the Gunnison Valley with a cancer diagnosis. This position is continually funded by TETWP and GVH. GVH estimates that the digital ultrasound machine TETWP purchased is used approximately 1,200 times a year for a multitude of medical procedures unrelated to cancer as well.
Walking through the screening process: Mammography 
Experts agree that early detection is the best advantage for someone facing a diagnosis of breast cancer, and Gunnison Valley Health reports that 90 percent of breast cancer detections are found in patients without a family history. This means they occur in patients who may not have expected it, and GVH recommends that all women over the age of 40 years old get screened. The 3D screening technology available at GVH is on one of the top detection methods available in the state.
The first step is to call the Gunnison Health Diagnostic Imaging department, (970) 641-7253. Have your insurance card handy, and feel free to ask how much it will cost. Or let them know if you are underinsured or not insured. Ability to pay is not a barrier; TETWP will provide a free screening for any patient who does not have insurance or who cannot otherwise afford to be screened.
"No patient in the valley needs to go without screening because they can't afford it," says Karien Cambell, a diagnostic radiologist at GVH.
Those scheduling a mammogram appointment can also make the trip more pleasant by requesting a Mammo Monday appointment, which includes a free chair massage.
There is also a wellness services component of Tough Enough to Wear Pink, which sponsors events throughout the year. This is a way to keep the network TETWP has created strong, and its members connected whether they are new, established or simply want to stand in solidarity with others. 
These include fundraising events, such as the Cattlemen's Days TETWP rodeo, but also through a hockey tournament, barbeques, a horseback-riding poker game, music festivals and a family event called Grits, Guts & Gals which includes a ninja warrior obstacle course and karaoke. Western Colorado University and the Gunnison High School also hold sporting events throughout the year to raise money and awareness for TETWP including volleyball and basketball games and wrestling matches.
TETWP kicked off the month of October with a Ladies Spa Night that included massages, and other "pampering" services, and of course, free mammograms.
Giving breast cancer patients room to breathe
For those who have faced a breast cancer diagnosis, TETWP is focused on providing as much healthcare within the valley as possible—and both the equipment and the team at GVH are extensive. Diagnostic radiology, a surgeon, an oncology team and a rehabilitation and integrative therapy program are all on-site. 
TETWP also offers patients help getting through life while managing treatment.  These services include the Oncology Nurse Navigator, individual or group therapy, a cleaning service, vehicles to use in travelling for appointments that take place outside the valley, accommodations while traveling, oral health support (radiology and chemotherapy can be hard on dental health) and direct financial assistance to those that need it. 
Many people feel a sense of being overwhelmed by a breast cancer diagnosis. TETWP has become a beacon to patients and those close to them through its wide network of support. Learn more at https://gunnisontetwp.com.